Reckless Posting Leads to Senseless Dying: No R.I.P.
With the World Wide Web being at everyone's fingertips, it is an easy way for cyberbullying to take place without thinking about how one may be affected. Although cyberbullying is a thing of right now, there is also general bullying within schools. As we know, bullying is unwanted, aggressive behavior that, if not noticed can lead to bigger situations. CEO, mogul, and mentor Debra Antney and her family endured some hard times due to damaging words posted on some blogs and media outlets (many of which have sensationalized stories posted for the popularity of their sites). With disregard for the validity of these rumors, the authors of these blogs and media sites have often been reckless with their posts and have cause stressed to so many people. Not once taking the time to care about how their words would affect the lives of the people and the families they adversely affected. That is why Antney created the "No R.I.P Foundation" (No Reckless Internet Posting Foundation) movement, inspired by the untimely, and extremely unfortunate, passing of Antney youngest son, Caodes "KayO" Scott
Through the No R.I.P. Foundation, Antney and her team raising awareness about the harmful effects of bullying. They are doing this through education, giving back, and by hosting events. Recently, Houston Style Magazine had the honor of attending the "R.I.P. Foundation - Eat, Drink & Be Charitable" event. In conjunction with the foundation and We TV's Executive Producer of Growing Up Hip-Hop Atlanta, the packed event had an air of positivity instead of focusing on the negativity that bullying can bring. The event also had a dual focus of bringing attention to mental illness.
Guests included reality TV star and artist, Masika Kalysha; artist, entrepreneur and family member, Regina Love; producer and entrepreneur, Cisco Rosado; accident authority expert and business owner of Hurt 911, Brian Veal; and a slew of others. VIPs were not the only things in abundance at the event, so was good food and entertainment. Attendees partook in tasty cocktails that were compliments of Courvoisier Cognac, delicious food and organic vibes provided by DJ Baby Face & DJ Future Dope.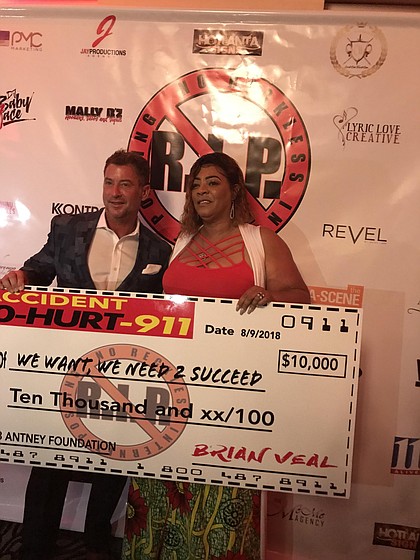 It was an amazing night since the foundation not only fulfilled their mission but they also met their goal of raising funds for their ongoing purpose. Proceeds for the night exceed $15,000. Plus, generous guests donated bedding, pots, pans, toiletries, and household items that foundation reps will distribute to students and their families at James H. Brown Elementary School in Atlanta, GA.
The R.I.P. Foundation is always accepting donations. Pledge NO R.I.P and help stop the reckless, hurtful, and destructive gossip that is destroying people. Help the NO R.I.P Foundation focus on the truth, and not the gossip and the rumors that could ultimately lead to someone committing suicide. If you or someone you know is being bullied please visit PledgeNoRIP.com.