Essence + Ford Brings 'My City 4 Ways' to Houston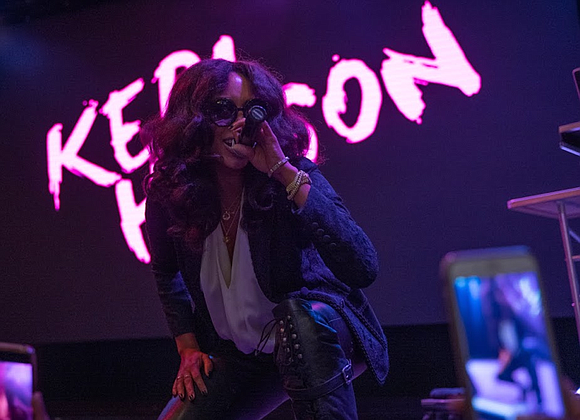 By Keandra Scott and Jo-Carolyn Goode
Do it for the culture has become a mainstream phrase to celebrate the traditions and heritage that defines one's culture at its core. Essence Magazine and Ford partnered for the ultimate cultural festival that celebrated a city and the people in it through their diverse interests in food, music, art, and lifestyle.
Day 1 with Jo-Carolyn and Bell
The celebration got started Friday evening with an intimate "Paint and Dine" exclusive media experience at Painting with a Twist Westheimer. Walking up to the event I was blown away by the site of the new Ford Mustang parked outside guiding attendees to the night filled with fun, food and fine wine. Brisket lollipops, sweet potato deviled eggs, smoked fig Caprese salad, smoked chicken breast with corn pudding, tomatillo snapper with avocado relish, spiced beef with whiskey sauce, and bourbon pecan mousse were all on the menu as we sipped and chatted enjoying the great company and ambiance.
With full bellies, it was now time to roll up our sleeves and get painting. For the first time in history, Ford allowed their iconic pony to be customized to fans liking. Being the girlie that I am I choose to paint my pony pink with a green background with streaks of blue as suggested by our amazing instructor. Local artist Ashley 'Pinklomein' Price was also in the building to help bring out our art flare as we created our masterpieces. Tagging along with me was our entertainment writer Bell, who has a very artistic eye and bigger than life personality that just added to the fun of the night. Throughout the evening, in our two teams, we painted, sipped on wine, danced to R&B hits, and had one fabulous night.
Good thing the good times didn't stop Friday night. Day 2 at White Oak Music Hall would be a day the showcased Houston with a focus on local talent and how they inspire residents to celebrate the elements of food, music, art, and lifestyle.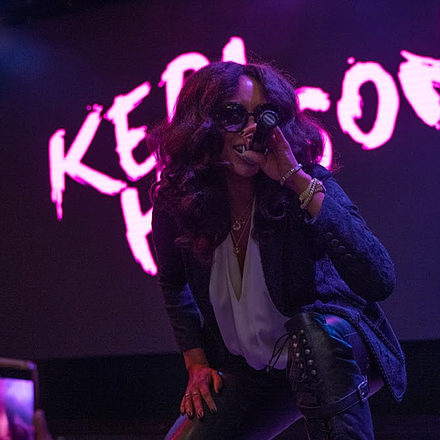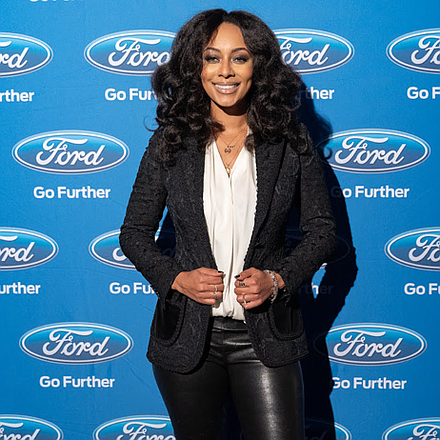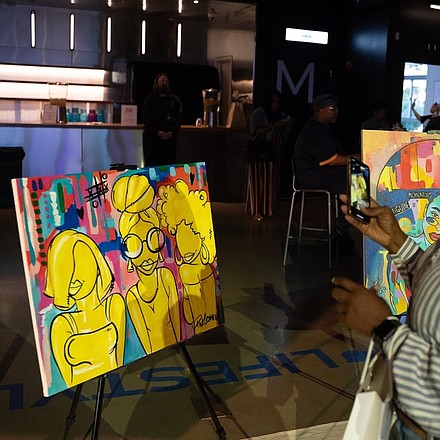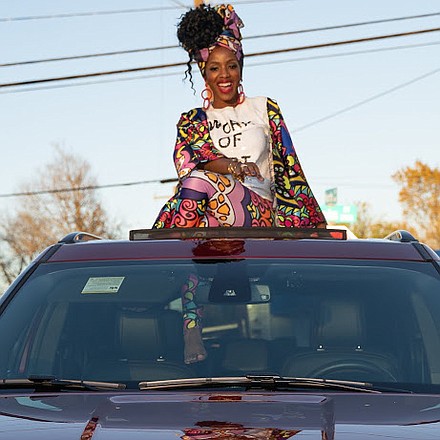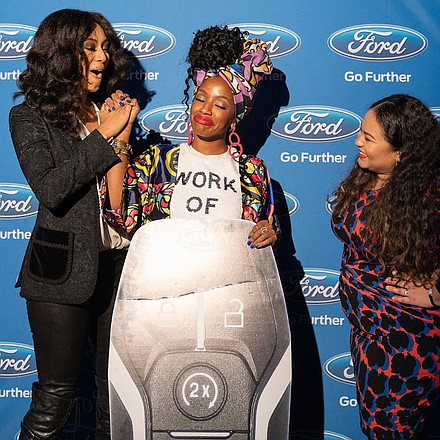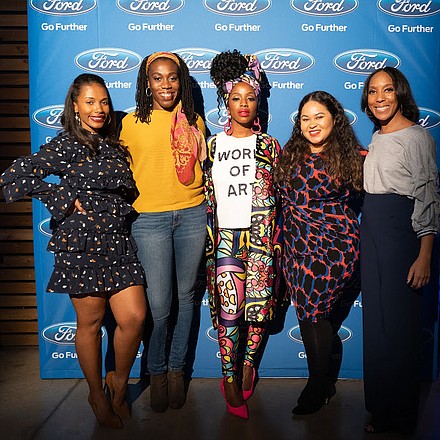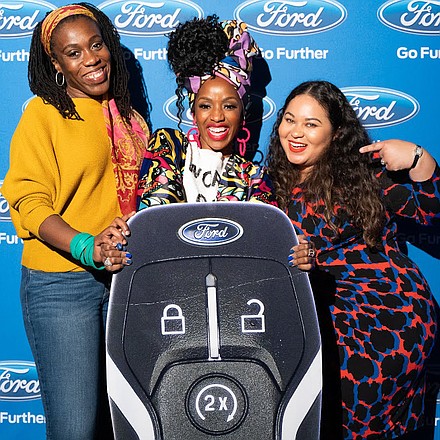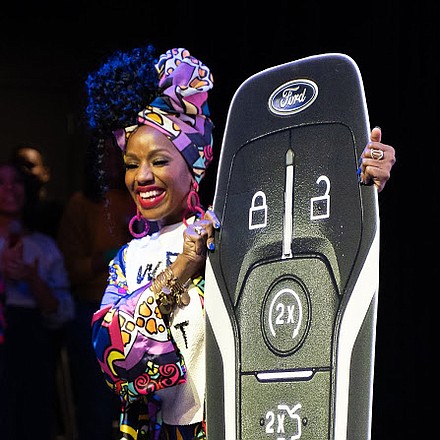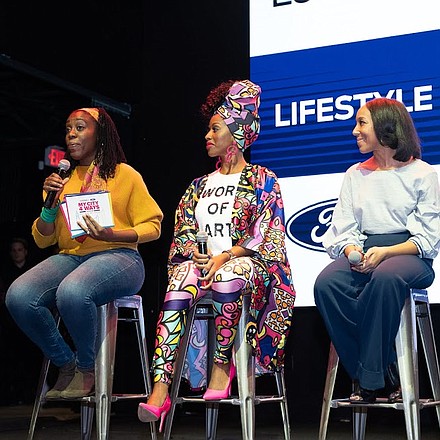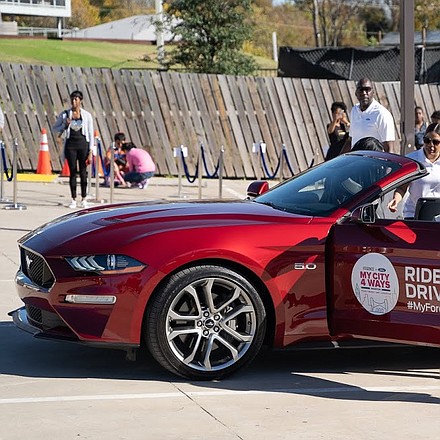 Day 2 with Keandra
Essence Magazine and Ford brought a powerful entrepreneurship energy that might have resonated anyone's willpower to carry out their dreams. My City 4 Ways was very tasteful literally and figuratively as Founder of Kitchen Cray Cafe, Chef James Robinson (featured on Hell's Kitchen) brought a palatable spread by way of D.C. to H-Town for the food element.
DJ Shante was on the 1s and 2s to make the occasion a day full of black excellence. Later on that afternoon more artists would light up the stage to highlight local and national artists.
Attendees got a chance to 'Ride&Drive' in a Ford vehicle of their choice as professional representatives spoke about the many features of their up-to-date beauties on-wheels. From a sporty top-down ruby red Mustang to a Texas road-worthy F150 pick-up truck, the Ride & Drive was a unique way for everyone to experience the best of Ford.
After the test-drive, each daring driver or passenger received a nice canvas bag with some cool and exclusive My City 4 Ways gifts including the latest Essence Magazine issue with Michelle Obama gracing the cover. There were a lot of freebies. Beautiful melanated women got a chance to play around with The Lip Bar's many liquid matte colors and more as a professional make-up artist applied it on. In return, they received a bag with one lip color of their choice, some people were also able to get nail polish. What a treat! CEO, Melissa Butler (The Lip Bar) was there giving good vibes, great advice and discussing her journey as an entrepreneur along with Tiffany 'Budgetnista' Aliche, host and entrepreneur Tai Beauchamp, and winner of the 60 sec. pitch + 2018 Ford Escape 2-year lease Melissa Mitchell (Abeille Creations).