Halfway Home: Rockets Look to Finish What They Have Started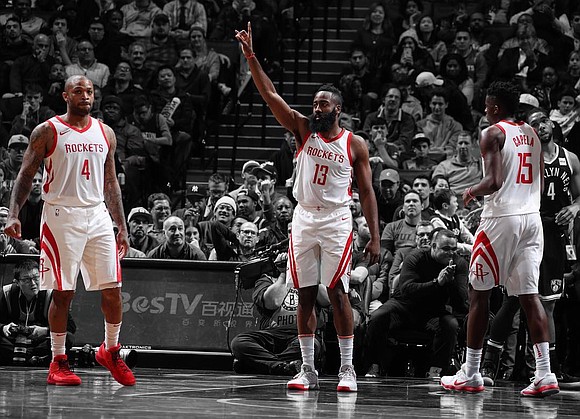 As we approach the midway point in the 2017-18 NBA season, there is one thing that has remained constant throughout the first 56 games of the season. The Houston Rockets are good. Ok, let me repeat myself and add something else to that last statement. The Rockets are really good and that is not hometown bias speaking either. Houston is currently 43-13 this season and is on a nine-game winning streak. They trail the NBA defending champion, Golden State Warriors by one game for the best record in the league.
"We are a better team than the Warriors. We're confident because we know if we are doing what we're supposed to do, we're going to beat them," said Rockets center Clint Capella, who leads the NBA in field goal percentage (65%).
The ultimate goal of all NBA teams is to beat that juggernaut that resides on the West Coast (Golden State), but only certain teams have the firepower to do it. Houston is that team who will give the Warriors the biggest challenge to being NBA World Champions again. As of right now, the Rockets are just taking it one game at a time. That led the front-runner for league MVP this year, James Harden, to give a better perspective on the team's outlook going forward.
"It's not going to be easy. Every single game, we're going to have to take it for ourselves and not relax. It's not about whom we are playing, but about us and each and every game getting better," said Harden, who currently leads the NBA in scoring at 31.4 points per game.
Houston has been in this position before. They were already penciled into the Western Conference Championship game last year at the halfway point but ran into the San Antonio Spurs who erased the Rockets name and replaced it with their own. The Spurs defeated the Rockets in game 6 of the 2017 Western Conference playoffs by 39 points. That led head coach Mike D' Antoni searching for answers. The answer came on June 29, 2017, in the form of a 6'1-point guard looking to find a team where not only his outstanding basketball skills would be appreciated, but also his veteran presence and leadership would be valued.
Houston acquired point guard Chris Paul in a trade from the Los Angeles Clippers and no one was happier than Rockets General manager Daryl Morey. He knew he had just added the missing piece to the puzzle Houston was putting together to take that next step to becoming champions. "Any day you can acquire a Hall of Fame-level player is a good day for the franchise," Morey stated as he stood in front of a room full of reporters smiling. With the addition of Paul (19 pts & 8 assists per game this season), the Rockets offense has flowed smoothly this season. No more double-teaming Harden as soon as he crossed half-court to get the ball out of his hands. Paul brings to that extra ball handler and outside shooter the Rockets so desperately needed.
I have no clue what the second half of the season is going to bring, but I do know that barring injuries, I will be prepared to watch the Rockets matchup with the Warriors for the right to go to the 2018 NBA Championship.
Get your popcorn ready.