Girl Scouts of San Jacinto Council Kicks Off Next Century of Female Entrepreneurs with 2018 Girl Scout Cookie Season
Council launches Cookies4Heroes campaign to donate 10,000 cases of Girl Scout Cookies to first responders and military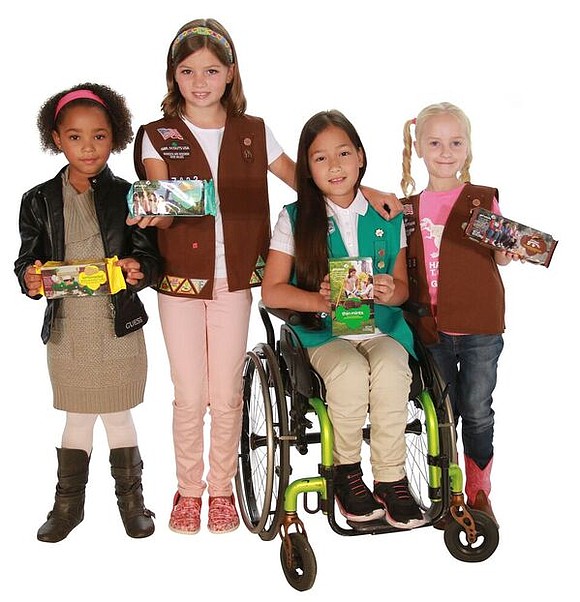 SOUTHEAST TX (January 2, 2018)—Girl Scouts of San Jacinto Council (GSSJC) enters the next century of Girl Scouts learning how to be future CEOs. The Girl Scout Cookie Program® not only teaches girls essential entrepreneurial skills but also powers amazing experiences for girls across the United States, including outdoor and travel opportunities, exposure to STEM and ways to improve their communities through service projects. This year, GSSJC is rallying the community to donate more than 10,000 cases, or 120,000 packages, of Girl Scout Cookies to first responders who provided relief during Hurricane Harvey across our 26-county jurisdiction as part of Cookies4Heroes.
"Following their extraordinary efforts during Hurricane Harvey, we want to tell first responders across southeast Texas, thank you," said Mary Vitek, GSSJC's CEO. "First responders have always been very supportive of Girl Scouts by opening their doors to teach girls about their profession and the positive work they are doing in our communities."
Cookies4Heroes is a program where cookie customers can support Girl Scouts by purchasing cookies and donating their purchase. These cookies are then given by the council to first responders and organizations that support the military.
To participate in Cookies4Heroes, all customers need to do is let the Girl Scout who is taking their order know that they would like their cookies to be donated to Cookies4Heroes.
The Girl Scout Cookie Program begins January 6 and ends March 25. Cookies will arrive in Houston and surrounding areas February 10-17, and customers can begin purchasing cookies at booths February 23. The last day to purchase Girl Scout Cookies is March 25.
Returning to the starting lineup is the Girl Scout S'mores™, the most popular flavor to launch in 101 years of Girl Scouts selling cookies. Consumers can now help fuel transformative leadership experiences and build the next generation of entrepreneurs by purchasing Girl Scout S'mores and favorites like Shortbread, Thanks-a-Lot®, Peanut Butter Sandwiches, Lemonades™, Peanut Butter Patties®, Thin Mints®, Caramel deLites® and gluten free Trios.
Almost 1 million Girl Scouts participate in the Cookie Program in the United States each year, generating nearly $800 million in sales during the average season. And all the net revenue raised locally—100 percent of it—stays within the Council area. Councils use cookie earnings to power amazing experiences for girls through their programming, while girls and their troops decide how to invest in impactful community projects, personal enrichment opportunities and more.
GSSJC will also celebrate the next century of female entrepreneurs during National Girl Scout Cookie Weekend 2018. From February 23 to 25, Girl Scout councils across the country will host events and set up booths for cookie enthusiasts to get their hands on the iconic treats and join in on the fun. To find out when Girl Scouts are selling cookies near you, visit www.girlscoutcookies.org or use the official Girl Scout Cookie Finder app, free on iOS and Android devices during booth sales February 23-March 25.
We're Girl Scouts of the USA
We're 2.6 million strong—1.8 million girls and 800,000 adults who believe in the power of every G.I.R.L. (Go-getter, Innovator, Risk-taker, Leader)™ to change the world. Chartered by GSUSA to provide Girl Scouting locally, Girl Scouts of San Jacinto Council, a United Way agency, is one of the largest Girl Scout councils in the country serving more than 56,000 girl members and 17,000 adults in 26 southeast Texas counties. For more information, call 1-800-392-4340 or visit www.gssjc.org.