Last Day to Purchase Girl Scout Cookies and Donate to Local Heroes Is March 25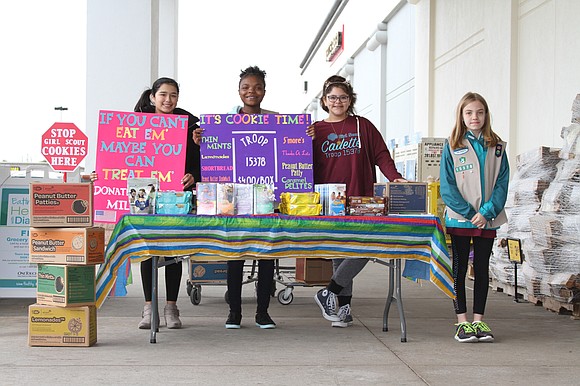 SOUTHEAST TX (March 8, 2018) – The annual Girl Scout Cookie Sale is coming to a close March 25, so pick up your favorites while you still can or donate your favorites to local heroes. Until then, cookies will be sold at cookie booths outside of grocery stores and other retail venues. You can also visit the Cookie Finder at www.girlscoutcookies.org to locate a cookie booth in your area.
Girl Scout Cookies come in eight varieties, including Thin Mints, Peanut Butter Patties, Peanut Butter Sandwiches, Shortbread, Thanks-A-Lot, Caramel deLites, Lemonades and the newest flavor S'mores. All varieties of Girl Scout Cookies are $4. Customers looking to purchase gluten free Trios are encouraged to ask Girl Scouts about this option. They are $5.
When customers purchase Girl Scout Cookies they are helping girls learn 5 Skills – decision making, goal setting, money management, business ethics and people skills, and giving girls the ability to power new, unique and amazing experiences.
New for this year is Cookies4Heroes, a program where customers can donate their purchases to first responders and members of the military to thank them for their efforts during and after Hurricane Harvey. GSSJC wants to donate 10,000 cases or 120,000 packages of Girl Scout Cookies and is currently more than halfway to its goal. To participate in Cookies4Heroes, all customers need to do is let the Girl Scout who is taking their order know that they would like their cookies donated to Cookies4Heroes.
Every penny, after paying the baker, stays with the local council and is reinvested into girl programming, volunteer training, camp maintenance and other activities for girls. Girls use their portion of proceeds earned to attend summer camp, attend STEM workshops, travel and complete service projects to better their communities and more.
We're Girl Scouts of the USA
We're 2.6 million strong—1.8 million girls and 800,000 adults who believe in the power of every G.I.R.L. (Go-getter, Innovator, Risk-taker, Leader)™ to change the world. Chartered by GSUSA to provide Girl Scouting locally, Girl Scouts of San Jacinto Council, a United Way agency, is one of the largest Girl Scout councils in the country serving more than 56,000 girl members and 17,000 adults in 26 southeast Texas counties. For more information, call 1-800-392-4340 or visit www.gssjc.org.