The General Public Debuts New Happy Hour Specials
Half-priced burgers and discounted cocktails available now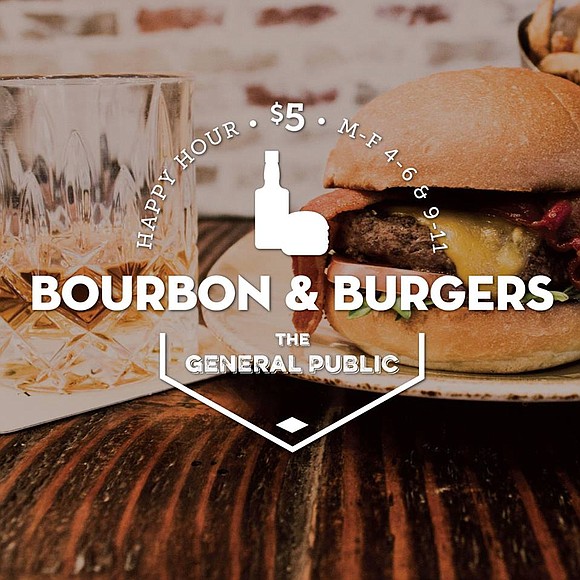 HOUSTON (Jan. 9, 2018) – A new year calls for new bigger and better specials.
The General Public is moving its Happy Hourly drink specials up an hour. Beginning today, guests can get the party started even earlier with EVERY drink on the menu offered at $3 from 3-4 p.m., $4 from 4-5 p.m., and $5 from 5-6 p.m.
You read that right; guests during the 3 p.m. hour can, for example, score a "Barkeep's Whimsy" and "Brass Old Fashioned" for a quarter of the original price. Then enjoy a "Midnight in the Garden" or "Rye & Stone Sour" in the 4 p.m. hour for $5 less than usual. Everything on The General Public's full drink menu is available at the Happy Hourly prices Monday through Friday from 3 to 6 p.m.
Additionally, The General Public's Bourbon & Burgers special will now be offered Monday through Friday from 9 - 11 p.m. Guests can please both their palate and their wallet with one of the following specialty burgers for half the normal price:
Bacon Burger – Egg bun, bacon aioli, ketchup, lettuce, tomato and cheddar cheese
The Aristocrat – Egg bun, arugula, glazed shallots and muenster cheese
Wash down that delicious burger with half-price bourbon from The General Public's extensive bourbon selection.
"We wanted to kick off 2018 on a high note and give guests even more reasons to hang out at The General Public," said Kyle Noonan, co-owner of FreeRange Concepts, creator of The General Public. "If you're looking for somewhere to enjoy high-quality cocktails without breaking the bank, this is definitely the place to be."
Located at 797 Sorella Ct. Suite 118, The General Public features a gourmet menu and a wide selection of cocktails, beer, wine and whiskey – served both inside and on its air-conditioned patio. Its signature horseshoe-shaped bar is tended by expert cocktail crafters eager to share such enticing indulgences as Dr. Funk, the Four Thieves, the Caipirinha and the Rusky Rose.
The General Public is open from 11 a.m. to midnight Monday through Thursday, 11 a.m. to 2 a.m. Friday, 10:30 a.m. to 2 a.m. Saturday and 10:30 a.m. to midnight Sunday. For more information, visit us online at TheGenPublic.com, and via social media on Facebook, Twitter and Instagram.