HMAAC Announces Black History Month Exhibition "Sandra Bland"
February 3, 2018- February 28, 2018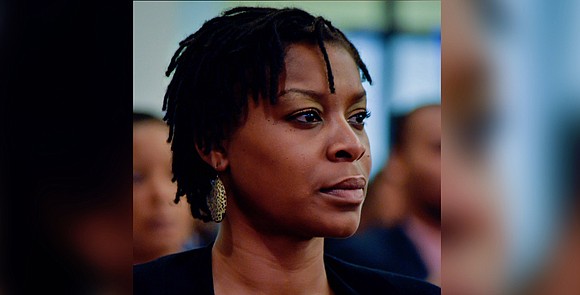 HMAAC begins its 2018 Black History Month with the exhibition, "Sandra Bland." The exhibit opens February 3, 2018 and runs through February 28, 2018. At the heart of the exhibit, curated by HMAAC CEO John Guess, Jr., is an interactive engagement allowing visitors to experience the emotions of Sandra Bland on the fateful day of her arrest, July 13, 2015 resulting from a traffic stop in Waller County.
A widely received Stanford University study last year found police officers across the United States more likely to cite, search and arrest black and Latino drivers during routine traffic stops than white drivers. The study findings, based on a nationwide database of state patrol stops, may be the largest compilation of traffic stop data ever assembled, with details from more than 100 million records of traffic stop-and-search data across 31 states between 2011- 2015. Not only did the study find minorities are ticketed and arrested more often, it also found that police in general will use a lower bar to search minorities than whites.
According to Guess, " Blacks are familiar with 'the talk,' foreign to most whites, given to black youth with regard to how to act during encounters with police. This exhibit vividly underscores the basis for 'the talk;' the fear that the wrong use of words during encounters with police, which the Stanford study found more likely for minorities, can lead to escalation and result in tragedy."
A 2016 Associated Press/University of Chicago study found Americans as a whole are divided over how they think police in their local communities treat racial and ethnic minorities. Forty-five percent say police treat all races and ethnic groups the same, but a majority (54 percent) say they sometimes treat minority groups more roughly. Blacks (81 percent) are especially likely to say police sometimes treat minority groups more roughly compared to Hispanics (63 percent) and whites (47 percent). A majority of whites (52 percent) think police treat all races and ethnic groups equally.
"We hope this exhibition will bring our multicultural audience to a better understanding of the fear African Americans have toward encounters with the police," said Guess.
A community panel will take place on February 8 at 6:30 pm at the museum as part of the exhibit.
This Black History Month exhibition is graciously sponsored by Melanie Lawson and John Guess, Jr. and the Board of HMAAC.