When Military Meets Art: Honoring Buffalo Soldiers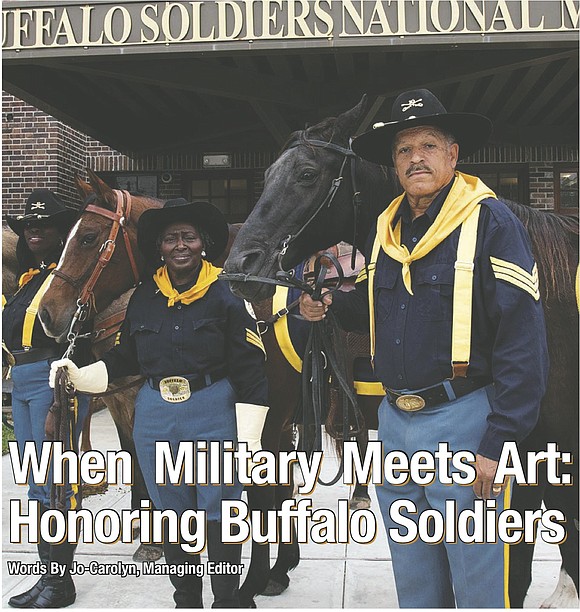 In partnership with Black Art in America and Crowne Plaza River Oaks and powered by Houston First, M.I.A. the symposium is meant to show an appreciation for military-inspired art. The day is full of activities highlighting world-renowned artists featuring art done by the military while serving and pieces that are inspired by the military but created by nonmilitary members. Attendees will be able to view artwork by Burl Washington, Bob Snead, Ted Ellis, Najee Dorsey, Paul Goodnight, Michael McCoy, Raven Henderson, Steve Tette, Glenn Towery, Peter Buotte and many more. Highlights of the day include painter Ted Ellis lecturing on the "10 Notable African American Artist That Have Served In the Military: WWI-Post Vietnam," veteran and artist Chris Van Loan Sr. lecturing on "Living an Artful Life," a panel discussion on "What It Means to Be An African American US Veteran and How That Service Translates into Art Work" with veteran Diamond Wilcoxson-Gass, and a highly interactive painting experience with veteran and artist Steven Tette. Guests will be able to paint with Tette on an oversized canvas that will later be displayed in the museum.

"I think it is really important for not only the Houston area but for the world to know that we have not only contributed to the foundation of the country but we have contributed to art as well. And that military and art are somewhat cohesive," said Desmond Bertrand-Pitts, NBSM executive director and grandson of Captain Matthews. This project is roughly two years in the making and is creating a real buzz. Bertrand-Pitts said he is already flooding calls about others wanting to partner and bring the project to other cities to which he is not unopposed. But for now, it is in Houston so take advantage.
Bertrand-Pitts advises, "If you are a lover of art, if you appreciate military experiences, if you have not been to the museum, this would be the perfect time to come because you will be able to experience not only the museum itself but you will be able to experience the symposium. Listening to just the stories of war and how that translates into art I think is going to be a really great experience not only for adults but also for youth." He continued, "I think it is really important for them to get a grasp on the military lifestyle but also appreciate art and those two together will be a very, very educational experience for young and old."
Buffalo Soldiers National Museum's M.I.A "Military Inspired Art" Symposium is a free event taking place on National Buffalo Soldiers Day, July 28, 2018, at the Buffalo Soldiers National Museum in the Herzstein Gallery, Boardroom, Founders Room, and The Officers Club from 10am-5pm. For more information please visit, www.buffalosoldiermuseum.com or call (713) 942-8920.