Sterling Staffing Solutions CEO And COO Sign Book Deal With ForbesBooks; Announce On National Radio Today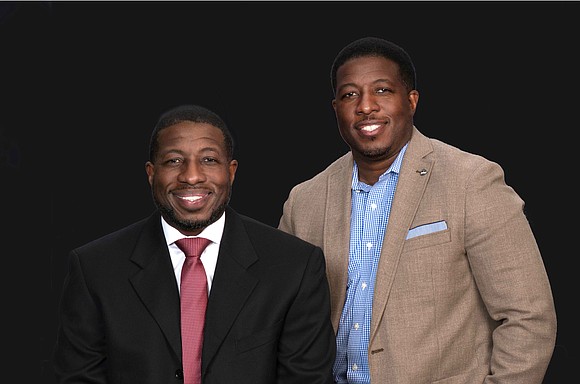 HOUSTON, TEXAS – The founders of Sterling Staffing Solutions announce they will publish a business strategy book with ForbesBooks, a division of Forbes – the 100-year-old global media, branding and technology company.
Founders Stephen Carter and Sterling Carter discuss this business move today on the syndicated show "America Tonight" with ForbesBooks Radio. The interview is also about life as twins, as business executives and as community leaders. It will be heard on 200 radio stations across the U.S. including the New York metro/New Jersey, New Orleans and Portland markets with more than 3 million listeners nationwide plus a podcast available at ForbesBooks.com (ForbesBooks.com/radio), iTunes and SoundCloud.
"Our story will be a blueprint for business success and inspire entrepreneurs to work with a strong ethic and sense of community," said Stephen Carter, CEO and partner of Sterling Staffing Solutions. "As twins and business partners, we are looking forward to sharing our lessons learned to enterprising business leaders," adds Sterling Carter, COO and partner of Sterling Staffing Solutions.
The book, which is projected to be released this fall, is part of ForbesBooks. Launched in 2016, it is the exclusive business book-publishing imprint of Forbes Media, and it is the next step in Forbes' century in the disruption and innovation in the media business. The Carters will be alongside authors such as Anne-Marie Faiola, of Live Your Best Day Ever, and Matt Zagula, of Smart Retirement. Forbes aligns with the top thought leaders, idea makers and innovators in business professionals today.
With today's show, the Carters have become part of the Forbes brand that reaches 94 million people monthly. Forbes' global reach begins with ForbesMagazine with 36 print editions in 69 countries and 25 languages, and it extends to Forbes.com, with 53 million unique visitors; social media, with more than 26 million followers; five Forbes airport bookstores; the weekly television show "Forbes On Fox;" and more.
Links to the podcast here:
ForbesBooks Radio
SoundCloud
iTunes
ABOUT:
Sterling Staffing Solutions, headquartered in Sugar Land and founded in 2011, staffs more than 800 physical, occupational and speech licensed therapists, nurses and medical social workers throughout Texas and Oklahoma. It won the 2017 Gold Stevie Award in the category of Minority Owned Business from The American Business Awards and has been named to the Inc. 2017 5000 list for the second consecutive year. It was a 2017 Black Enterprise Family Business of The Year Finalist and won the Greater Houston Black Chamber's 23rd Annual Pinnacle Award and won the Greater Houston Better Business Bureau's 2017 Pinnacle Award. The business has been featured in local to national publications. For more information, visit SterlingStaffingSolutions.com.