Hopdoddy Opens Its Newest Location in CityCentre
Lisa Valadez | 10/12/2018, 11:53 a.m.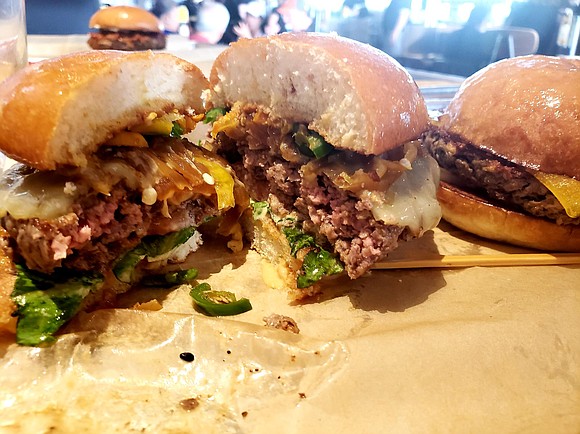 Burger enthusiasts rejoice! Hopdoddy Burger Bar has opened its newest location in CityCentre, one of Houston's premiere destinations for food, shopping, and entertainment.
As a Hopdoddy first-timer, my initial greeting was met with the oh-so-scrumptious aroma of hamburger heaven as I walked up from the parking garage to the restaurant. I know I was there for the burgers, but honestly, the bar selection is what initially caught my eye once I walked in. From craft beers, to frozen margaritas, signature cocktails, and even crafted milkshakes, the "adult" drink menu is pretty impressive for a casual burger joint. Being more of a Scotch/Whisky connoisseur, I opted for the Whisky L.I.T., a concoction of Jameson, Old Forester, Wild Turkey, Camarena Reposado, Pierre Ferrand Dry Curaco, cola, and lime. (recommendation – tell the bartender to go easy on the ice)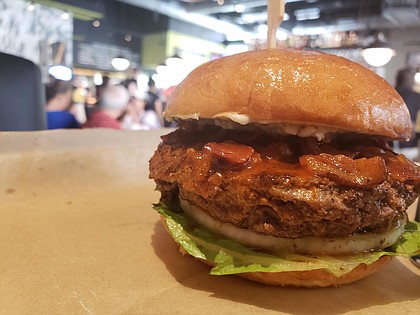 Ok, now to the food. It wouldn't have been right if I tried just ONE burger, so yes I ordered both the El Diablo and Impossible burgers. (no judgment, right?) Let me first admit that it was a huge mistake asking for my El Diablo burger to be made extra spicy. I am usually one that can handle spicy but OMG, my taste buds were on fire. And no, I didn't stop eating it – I handled it like a true champ. So if you're up for the challenge, then this is the burger for you.

El Diablo Burger
Angus beef, Tillamook pepper jack, habaneros, serranos, caramelized onions, salsa roja, chipotle aioli, lettuce, tomato
Next up, the Impossible Burger. After all, this foodie is always looking for the non-meat burger that actually tastes like a back yard bbq grilled burger. And I can honestly say that the Impossible actually tasted like, well, a tasty burger. This is the second restaurant in Houston where the vegan patty actually boasts some flavor and is not bland-like. My vegan companion stated that the burger was very flavorful and so far, their favorite restaurant vegan burger. (sorry to all other restaurants – step up your plant game!.)
The Impossible
Impossible meat (made entirely of plants; contains gluten), Tillamook cheddar, "sassy sauce", lettuce, tomato, white onion
There's always room for fries! So do yourself a favor and go out of the norm by ordering the Hot Honey and Sage fries. Or, do yourself an actual solid by ordering the truffle and buffalo fries to share with your foodie mate. (yes, I ordered all of the fries, no I didn't share.)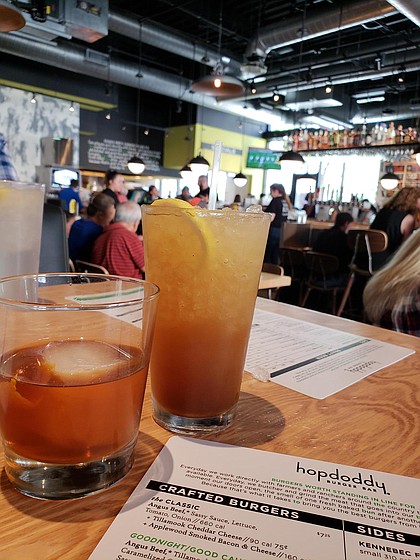 Ok, so what are you waiting for? Stop reading this already and head on over to Hopdoddy CityCentre and order one of everything! Maybe you can share with me?