High Octane
Texans defeat the Lions 30 – 23 to win their first preseason game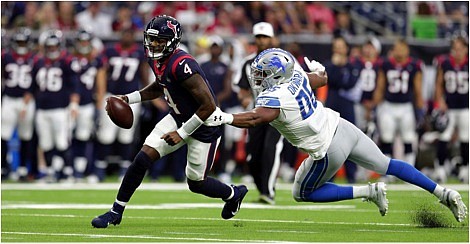 Texans fans got a glimpse of what the upcoming season is going to look like as they watched the hometown team defeat the Detroit Lions 30 – 23. The first team offense under new offensive coordinator Tim Kelly put together a great 75-yard scoring drive that was capped off by a 4-yard touchdown pass from Deshaun Watson to DeAndre Hopkins.
"It was a good drive, efficient drive," Texans head coach Bill O'Brien said. "I thought we had good balance on that drive. I'm not sure how many plays it was, but the key was I believe no penalties and like you said, no sacks. It was good, it was a good, efficient drive."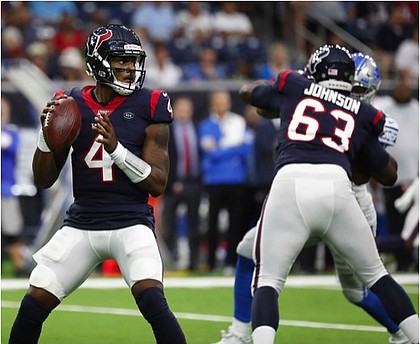 Watson and Hopkins were making their preseason debuts after both sat out the first game against the Green Bay Packers on last week. They took advantage of the one drive they played together as Watson used a hurry up two-minute offense that kept the Lions defense off balance.
"It felt great to just be back out there on the field with the guys," Watson said after finishing 5 of 7 for 60 yards and one touchdown. "Just trying to make plays and set the tone for the 2019-20 season. It felt good, it felt comfortable, felt happy. Everyone was on the same page, the operation was perfect, and we went down and got points."
One player on the Texans roster who is trying to take advantage of every opportunity given to him is offensive lineman, Roderick Johnson. The former Cleveland Brown player started the game in place of Matt Kalil who sat out this preseason game. Johnson played very well and kept the backside pressure of his star quarterback. After the game, Texans head coach reiterated who his starting left tackle is by telling the media that Kalil was still the starter.
The Texans had a total of 410 yards of total offense led by backup quarterback Joe Webb who received the majority of the backup minutes behind Watson. He went 14-of-25 for 185 yards with a touchdown and an interception but looked bad on consecutive plays that led to the turnover. After holding the ball in the pocket for too long and being sacked, he threw the ball into triple coverage on a pass intended for Jester Weah that was intercepted by Lions defensive back Andrew Adams.
Houston's defense played very well for the entire night by forcing two turnovers and held the Lions to constant three and outs during the course of the game. Detroit was 1-of-11 on third downs and couldn't get a positive scoring drive until mid-third quarter. Rookie Derrick Baity Jr. out of Kentucky used the enormous amount of playing time he received after the starters went to the bench to his advantage. He had six combined tackles and an interception to go along with two pass breakups.
Style Points
Running back Buddy Howell displayed his running abilities by rushing for 84 yards and a touchdown on 15 carries. Howell, who will most likely make the Texans as a special team's player, shared the load with undrafted rookie Damarea Crockett who finished with 32 yards on eight carries.
Texans have a log jam at the tight end position and every week Jordan Thomas, Jordan Akins, Darren Fells, and Jarell Adams are making tough for coach O'Brien to have to release one.
Thomas, who missed last week's game against the Packers due to injury made a spectacular catch in the back of the end zone for a touchdown that led him straight up the tunnel. Unfortunately, it was called back for holding. Not to be outdone. Adams had the highlight of the night after he stiff-armed a Lions defensive back off his feet.