Arts District Houston Launches with New Mural Project Paying Homage to Neighborhood's Rich History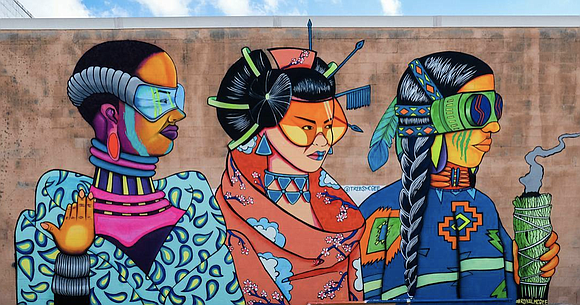 Houston, TX [August 16, 2019] - Arts District Houston (the Arts District), a state-appointed Arts and Cultural District, will reveal its first major mural project since Art Alley at Sawyer Yards, with a new, interactive series that will reflect the rich history of Houston's historic First and Sixth Wards. With five projects in the works, the murals will engage multiple artists across various mediums to reflect what is unique about the neighborhoods that make up the Arts District and culminate with an "Arts District Houston" mural in October during Arts District Month. A ribbon-cutting and unveiling event will formally introduce the Arts District, previously known as Washington Avenue Arts District, and the on-going mural project on August 30 at Henderson and Kane General Store from 9 a.m. to 11 a.m.
Visitors to the Arts District will be re-introduced to the area and learn about hidden history found in its community, which encompasses both the historic First and Sixth Wards. All the public works will demonstrate how Arts and Cultural Districts can work with artists and local residents to help showcase the rich history of existing neighborhoods and integrate themselves into dedicated spaces for local creators and makers.
"We hope that these projects will increase awareness of artists, the arts, local businesses and neighborhood history while increasing traffic to the area ultimately creating economic growth," says Marci Dallas, Executive Director of Fresh Arts and the Arts District. "The Arts District is home to the largest concentration of studio spaces for local artists, designers and makers in our region, and who better to tell the story of our neighborhoods than them."
The series will kickoff with a mural by artist Royal Sumikat, whose work will be displayed along the south wall of Henderson and Kane, parallel to Henderson Street. Sumikat's piece will use portraits of Mexican, Black, German and Italian women from the late 1800s to reflect the diverse history of the neighborhood. Visual aspects include women carrying Victorian and shotgun style homes, reminiscent of the houses around First and Sixth Wards, on their shoulders. "It will symbolize "shouldering the responsibility" of cultivating a culturally rich neighborhood where families can work, live and play," Sumikat explains.
The first mural also illuminates the presence of Henderson and Kane, an old fashioned general store with modern amenities recently renovated to serve the historic neighborhoods.
"Murals in communities have shown to increase business traffic, sales, community pride, safety and creative safekeeping," added Dallas. "Establishing tourism destinations is a major priority of the state cultural district program. Our murals will create tourism attractions that highlight the distinct identity of the First and Sixth Wards and foster local cultural development."
The murals will also provide visitors with creative wayfinding in the form of a legend created by Houstorian James Glassman that will be displayed on each mural wall. The legend will reflect the natural and physical borders of the Arts District, and historic landmarks found in the area.
During the unveiling event, Dallas will share information on where new murals will be unveiled from August through October, including an upcoming new series for Houstonians to learn more about artists who have made an impact on the community. Guests will include City Councilmember Karla Cisneros, a staff member from At-Large Position 4 Councilmember Amanda Edwards' office and Debbie McNulty from the Mayor's Office of Cultural Affairs, all who will share a few words. This project is made possible in part through the City of Houston – the most significant support provided to artists in the area to date.
"In 2017, when Fresh Arts became the managing partner of Arts District Houston our goal was to tell the story of Houston's diverse artists and integrate their work into our existing neighborhoods and local businesses," explains Dallas. "Since then, we've invested nearly $350,000 into the Arts District through operations, programming and marketing. We're happy to be able to continue our mission with the help of the City through an interactive experience that speaks to a modern, new audience."
To learn more about Arts District Houston visit artsdistricthouston.com.