Explore Local Businesses, Events and Restaurants During Arts District Houston's Inaugural Arts District Month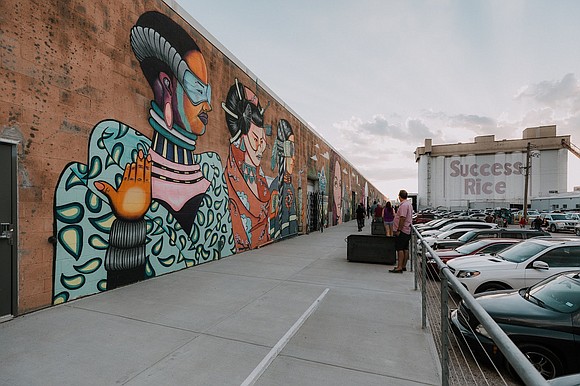 September 26, 2018 [Houston, TX] - October is officially Arts District Month in Houston and Arts District Houston is partnering with Houston First, Visit Houston, and Le Meridien Houston Downtown to showcase all that the District has to offer. For the first time, visitors can celebrate the rich, thriving arts and culture community with an entire month dedicated to delivering the perfect getaway matched with artistic expression.
This state appointed Arts and Cultural District has a rich history as it encompasses portions of both the First and Sixth Wards, two of the city's oldest neighborhoods. Arts District Houston is home to 300+ studio spaces for local artists, designers and makers demonstrating firsthand how art gets made. There are dozens of locally-owned bars, restaurants and creative businesses. Visitors can encounter flourishing creative expression, entrepreneurial spirit and joyful exploration of personal passions amidst the iconic repurposed rice silos and old Union Pacific rail line running through the region. They can also take advantage of special pricing on rooms at Le Meridien during their weekend stay.
"As one of Houston's five state-recognized cultural districts, we have a unique opportunity to showcase the artists and creative entrepreneurs participating in the city's thriving arts ecosystem" said Marci Dallas, Executive Director of Fresh Arts. "Arts District Month is a chance get to know the history of our neighborhood, meet local artists, deepen our knowledge of this diverse city, have an amazing time- all while supporting Houston's arts community."
Throughout the month, visitors can experience art and architecture in the context of the preserved rice silos at Site Gallery or the former underground drinking water facility at the Cistern at Buffalo Bayou Park. Visit Houston's beautiful historic Glenwood Cemetery where many of our city's founder are laid to rest, or grab a coffee or a beer at one of the neighborhood haunts. Take in the expansive murals at Art Alley or check out the exhibits at Sawyer Yards, FotoFest, and MECA.
Weekend One (Oct. 5-7)
Sip, Shop, See
Depending on the mood, remedy a sweet tooth with a classic milkshake at Southwell's Hamburger Grill or seek debauchery in the traditional Irish cocktail style at Poitín, then browse the latest in hip clothing items at Reserve Supply Co. Experience a rare opportunity to view and shop thousands of pieces of art from more than 350 Houston artists at the Fall Biannual @ Sawyer Yards. Along with the art, there will be live music, light bites and drinks at each of the six studio buildings. Don't forget to head to Holler Brewing Co FIRST Fridays Art Market where you can grab a cold one and shop this new local artist and makers market. Along the way, check out the Art Alley Mural Project at the heart of Sawyer Yards, the iconic President's heads by sculptor David Adickes at American Statesmanship Park and the colorful 'Rail to the Sea' mural by local artist Janavi M Folsbee for perfect Instagram pictures.
Weekend Two (Oct. 12-14)
Sip, Shop, See
Refresh in the a.m. with seasonal loose leaf tea and fresh roasted coffee at Catalina Coffee Shop. Once you're energized for the day, check out the studio buildings at Sawyer Yards. The buildings have rotating exhibitions open to the public, but the Second Saturday of each month is special because you can interact personally with local artists and creative makers. First head to The Market at Sawyer Yards, a curated outdoor market that puts special attention on Houston folk art, but also offers artisan crafts and specialty foods. Then meet local artists at Second Saturday @ Sawyer Yards where you will find an array of paintings, sculptures, ceramics, glass, mosaic, photography, ceramics, mixed media, and jewelry. Once you're done shopping, laugh it up at Station Theater, an independent comedy performance space featuring long-form improv, sketch, and stand-up comedy shows Thursday through Saturday. After the fun, grab a craft beer in a converted gas station at Liberty Station.