The Year of the Minority Woman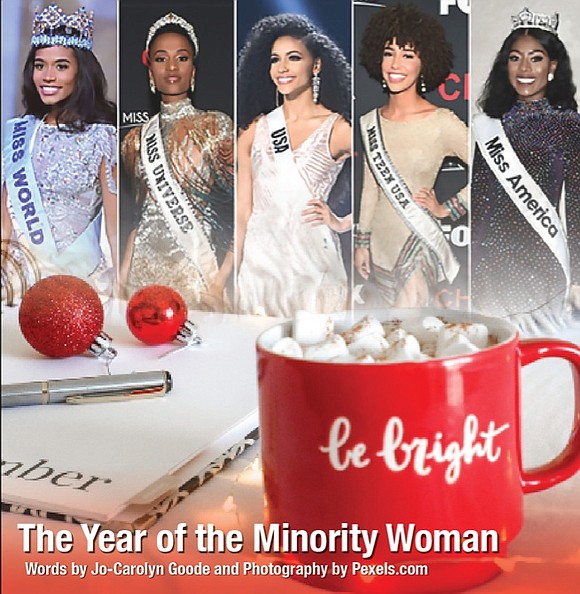 In this era where women are more self-assured, self-aware, and self-loving has resulted in women claiming their place in history. The script of women not having their voice heard has been rewritten with women leading the conversation instead of taking notes from it. Being a part of the discussion has allowed women to change the dialogue, change the world's view of gender and change the space in which women find themselves. 2019 was a great year for the advancement of women in various areas. Houston Style Magazine takes a look at some of the women that made 2019 the Year of the Minority Woman. What a year for women!
Borrowing the words of a game changing women herself, Beyonce, "Who are we? What do we run?, We run the world (who run this motha', yeah)." From the house where laws are made to the homes where laws are enforced, women run every aspect of the world. And the wrath of the female power was overwhelming in 2019.
Black Women Reign Supreme
Through a series of competitions, beauty pageants pit women against each other to crown one ultimately as the winner and thereby defining what beauty is for America. For years those pageant winners defined beauty by Eurocentric standards, which has led African American women to straighten their hair with chemicals, Asian women to undergo surgery to change their ethnic features, and Hispanic women to lighten their complexion. Women of color did not love their skin, hair, or other physical features until recent years with a wave of pride in oneself grew, as women have to come, love, all God made them be.
Darker complexions, big hair, curves for days, and an explosion of pride for one's ethnicity has commanded the stages of the Miss America, Miss USA, Miss Teen USA, Miss Universe, and Miss World stages. Historic crowing moments started with Nia Franklin claiming Miss America 2019 in September 2018 followed by Kaliegh Garris winning Miss Teen USA in April 2019 and Cheslie Kryst being named Miss USA in May 2019. Rounding out the top five this month is the newly crowned Miss Universe Zozibini Tunzi and Miss World Toni-Ann Singh. Never before have African American women held all five national pageant titles at one time. Because of this more and more little girls are seeing mirror images of queens that look like them. Thereby raising their self-esteem and self-confidence. Thus making them better students and giving them the courage to go after everything that they want in life for their personal affairs and career paths.
Latinas Making Music History
Latinas are spicing up the entertainment industry with history making moves. Starting things off is legendary actress Rita Moreno, who already is the only Latinx actress with an Emmy, Grammy, Oscar, and Tony, earning the Peabody Career Achievement Award in 2019 making her a PEGOT.
Effecting change on the political front is Alexandria Ocasio-Cortez, who was part of the historic freshmen class of women to enter Congress. She made history twice since she is also the youngest ever Congresswoman at age 29. Not one to be quiet, Congresswoman Ocasio-Cortez is known for her outspoken nature to stand up for what she believes in and doing what's right for constituents.