Judge Lina Hidalgo Commits to Harris County
Burt Levine | 3/1/2019, 10:36 a.m.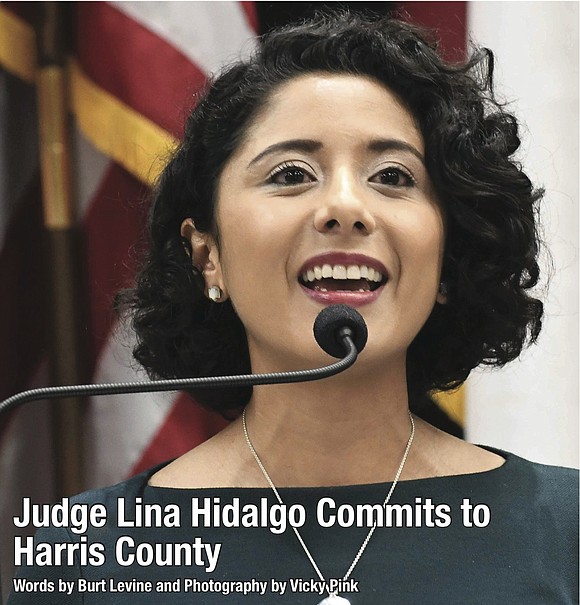 As Harris County Judge, Hidalgo immediately impressed naysayers with her insistence on ethics standards unprecedented ever in Harris County history.
"As Harris County Judge, I'm committed to build a more transparent government. We're launching a broad public engagement campaign, Talking Transition: Harris County, which are town hall meetings I host with Harris County Department heads in transition neighborhoods each Saturday. I work to include transparency in our initiatives," she said.
Judge Hidalgo said she's informed the County Attorney she will recuse herself from consideration, decisions, and updates regarding two lawsuits she was involved in at her work for criminal justice reform before winning County Judge. Those cases include Salcido, et al. v. Harris County, et al., Cause No. 4:15-cv-2155 (S.D. Tex., Houston Div.) and Smith v. Harris County, Cause No. 4:15-cv-cv-2226 (S.D. Tex., Houston Div.). In Salcido, a man suffering withdrawal died in jail shortly after being restrained face down on a gurney while warning he couldn't breathe.
In Smith, a young man with a diagnosis of major depression and symptoms of schizophrenia, as well as a history of suicide attempts, was held in the Harris County Jail and died by suicide. Her reasons for recusing herself in the Salcido suit is also because of her close, personal relationship with David James (her live-in boyfriend and a graduate of UT Law) who is an attorney at the Austin firm of Edwards Law. Edwards Law is counsel to some of the plaintiffs in Salcido.
"I further plan to recuse myself in Smith because I was a volunteer at the Texas Civil Rights Project while the litigation was developed and filed," she said.
"As I begin my new role, I'm taking two steps to ensure I'm building trust with the people of Harris County. First, I will recuse myself in matters before the county where a conflict of interest may exist. Whether or not recusal is required as a matter of law, I'd like there to be no legitimate question that I work for the best interests of the people of Harris County," Judge Hildago said. She also refuses to take donations from vendors seeking business with the county.

She committed to all the duties of her job including the eight hours that she sometimes spends at County Commissioners' Court. "Every citizen interested is invited to speak no matter how long the meetings now last late in the day and evening. I'll meet with everyone at my town hall meetings," Hidalgo continued. "It is recommended to call ahead to attend 10 am Tuesday's court sessions." Her meetings are the place it is to be on Tuesdays in Harris County.
"With your incredible support, we won the election for Harris County Judge. Now together we will work to build a better future for all of us," she said.