Celebrate the Flavors of Fall
Use a pantry staple to spice up comfort food classics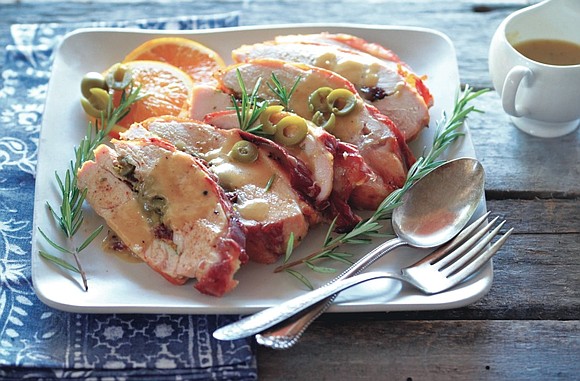 When gravy is done, remove from heat and drizzle over sliced turkey breast. Garnish with remaining green olives and orange slices. Serve warm.
Green Beans with Olive Butter
Recipe courtesy of Culinary Hill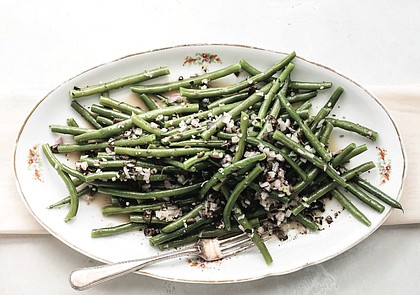 1/4 cup (1/2 stick) unsalted butter, softened
20 California Black Ripe Olives, chopped
2 shallots, chopped
2 cloves garlic, chopped
4 quarts, plus 1/4 cup, water, divided
1 tablespoon salt, plus additional, to taste
2 pounds green beans, trimmed
freshly ground black pepper, to taste
In food processor, pulse butter, olives, shallots and garlic; set aside.
In large saucepan or stockpot, bring 4 quarts water and 1 tablespoon salt to boil.
Add green beans and boil until tender-crisp, but still bright green, about 3-5 minutes. Work in batches, if necessary. Drain well and immediately plunge into bowl of ice water to stop cooking. In large skillet, add remaining water over medium heat. Add blanched beans and toss until heated through.
Toss beans with olive butter to coat. Season, to taste, with salt and pepper. Transfer to serving platter.
Potatoes Au Gratin with Fennel and Olives
Recipe courtesy of Heather Likes Food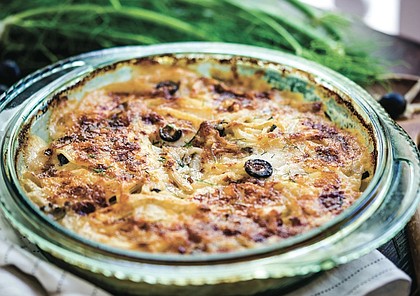 1 bulb fennel, washed, stalks removed and cored
1/2 yellow onion
2 large russet potatoes, washed and peeled
1 tablespoon olive oil
1 tablespoon salted butter
1 cup, plus 2 tablespoons, heavy whipping cream, divided
1/2 cup California Ripe Black Ripe Olives, sliced
1/2 teaspoon kosher salt
1/8 teaspoon black pepper
3/4 cup Gruyere cheese, grated, divided
3/4 cup Jarlsberg cheese, grated, divided
Heat oven to 350 F.
Using mandoline or handheld slicer, thinly slice fennel, onion and potatoes.
In medium pan, heat olive oil and butter then saute onion and fennel over medium-low heat 15 minutes, or until tender. Remove from heat.
In large bowl, combine sliced potatoes with 1 cup cream, olives, salt, pepper and all but 2 tablespoons of each cheese.
Add cooked fennel and onion to bowl and stir to combine.
Transfer potato mixture to 8-by-8-inch baking dish or deep pie plate and flatten surface so potatoes are mostly submerged in cream.
In small bowl, combine remaining cheese with remaining cream. Sprinkle cheese over top of potatoes evenly.
Bake 45-60 minutes, or until potatoes are tender and top is golden brown and bubbly. If needed, tent with foil to prevent top from becoming too brown.
Cool at least 15 minutes before serving.