It's Time To Get It On
Astros host the Seattle Mariners on Friday to begin their 2020 MLB season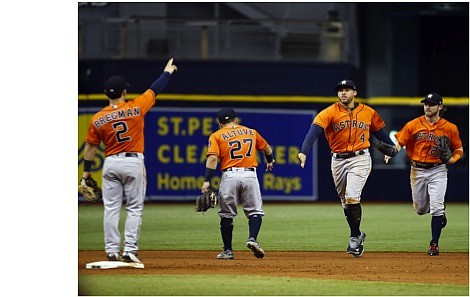 It may have taken a few extra months, but baseball is finally back in the city of Houston and although there won't be fans in attendance for the four-game home opener against the Seattle Mariners starting Friday, the excitement is still the same. Fans took to social media to express their love and support for the three-time American League Pennant Champions despite their lack of physical presence in Minute Maid Park.
Even Houston Rockets superstar James Harden sent encouraging words from ESPN Disney in Orlando where his team is preparing to restart their season next week.
"It's time to get it on," said Harden about the Astros. "I think for the love of the sport you play and what you have built your entire career to get to this point and you just have to go out there and encourage your teammates the best way you can."
Major League Baseball had to do a lot of readjusting to the schedules due to the global pandemic caused by COVID-19. Spring training camps were closed as the number of positive cases spiked throughout the nation. MLB took a very proactive stance in making sure player safety came first before restarting training camp which was dubbed "Summer Camp 2020."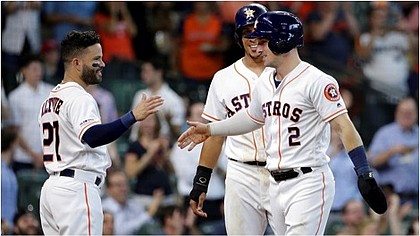 The Astros also led the way when it came to its players by practicing social distancing on the field during batting practice and drills and even shut down workouts when players test results were delayed or when a member of the organization had come into contact with a person who had coronavirus type symptoms outside of the club.
With the conclusion of Summer Camp 2020 on Wednesday, Houston officially announced its 30-man roster for Opening Day:
PITCHERS (15)
Abreu, Bryan
Bailey, Brandon
Biagini, Joe
Devenski, Chris
Greinke, Zach
James, Josh
Javier, Cristian
McCullers Jr., Lance
Osuna, Roberto
Paredes, Enoli
Pressly, Ryan
Sneed, Cy
Taylor, Blake
Valdez, Framber
Verlander, Justin
CATCHERS (3)
Garneau, Dustin
Maldonado, Martín
Stubbs, Garrett
INFIELDERS (7)
Altuve, Jose
Bregman, Alex
Correa, Carlos
Díaz, Aledmys
Gurriel, Yuli
Mayfield, Jack
Toro, Abraham
OUTFIELDERS (5)
Brantley, Michael
Reddick, Josh
Springer, George
Straw, Myles
Tucker, Kyle
Major League Baseball will only allow teams to carry 30 players on their active roster until Aug. 6, at which point they will have to trim their roster to 28. Teams will carry 28 players until Aug. 20, before going down to 26 for the remainder of the season.
Astros players such as outfielder Ronnie Dawson, infielder Nick Tanielu, and pitcher Forrest Whitley did not make the Astros 30-man roster, will report to Double A Corpus Christi, where they will continue to train with all players on the injured lists, as part of the Astros Player Pool.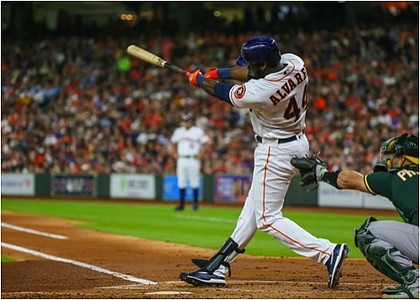 The most notable name missing from the opening day lineup is 2019 American League Rookie of the Year, Yordan Alvarez. He was placed on the injured list with an undisclosed illness that has kept him away from Minute Maid Park for the duration of the Astros workouts.
General manager James Click was asked by the media if he had a timetable for Alvarez's return or if they expected him back this season.