Vegan BBQ Food Truck Sees More Customers Exploring Meatless Options Amid Shortages, Rising Cost of Beef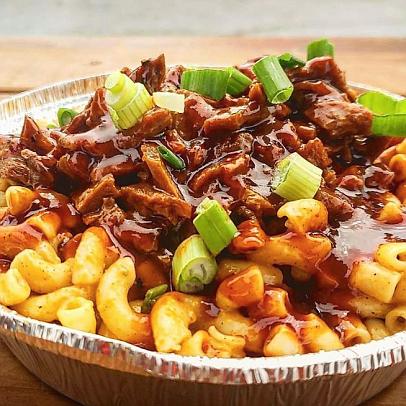 Houston Sauce Pit (HSP), the city's first Vegan BBQ Food Truck, is seeing a rise in customers trying meatless options amid rising beef prices and shortages affecting restaurants and grocers.
The Houston Sauce Pit Truck, which has remained open for take-out service in Houston's Third Ward since the COVID-19 shutdown began, has seen a swell of vegan-curious patrons in recent weeks, tipping their customer base toward more than 60% of non-vegan guests.
Houston Sauce Co.'s Jarrett Milton and Courtney Lindsey, who co-own the HSP Vegan BBQ Truck, have been winning over carnivores with delicious all-vegan BBQ recipes since they launched in January, but believe the recent uptick can be attributed to a number of factors.
"So many folks have been teetering the fence of veganism," said Milton. "With meat shortages, higher prices and people looking for new and healthier options over the last six weeks of the pandemic, this has been a great opportunity for those people to go all the way and see if they don't miss meat as much as they thought they would. For others, it may not be a permanent replacement, but a great way to explore vegan food options in the interim."
Milton said that vegan food, especially barbeque, when done right, should be so delicious and bursting with flavor, you don't really notice a difference between plant-based substitutes like Beyond Meat and the real thing.
The HSP Vegan BBQ Food Truck features a full menu of hand-crafted barbecue dishes that use 100% vegan substitutes to create dishes that taste like real Texas barbecue favorites including items like Loaded Brisket Mac (bed of mac & cheese topped with vegan brisket), Smoked Links, BBQ Smoked "Wangs" (wings), Loaded Potatoes, Chopped "Veef" and Smoked Link "Sammiches" and sides like Mac N' Cheese, Potato Salad, BBQ Baked Beans, Pit Chips, Brussel Sprouts w/"Bakon", and BBQ Smoked Loaded Elote (corn on the cob)!
Milton and Lindsay are continually adding new signature vegan creations like Smokey Sauce Pit Burritos, Veef Nachos, the BBQ Jackfruit Sandwich (a vegan version of pulled pork topped with Alabama White BBQ Sauce) and BBQ Swamp Potatoes (giant baked potatoes topped with vegan Alfredo sauce and shrimp, spinach, Portabella mushrooms, vegan Parmesan and choice of vegan beef or smoked links), to keep their menu fresh.
The Houston Sauce Pit Vegan BBQ Food Truck is open Tuesday – Saturday, from 12pm-8pm and Sunday from 1pm-5pm at 4819 Almeda Road in Houston. Fans can follow their Instagram (@houstonsaucepit) for Daily Lunch Specials from 12pm-3pm, new Vegan Specialty Items and the full menu and Food Truck hours.
The HSP Food Truck provides healthy 100% vegan BBQ meals and sides prepared fresh on site, in an outdoor open-air environment, with less chance of indoor contaminants. The owners have been practicing safe social distancing with Food Truck guests and following all the restaurant safety recommendations of the City of Houston and the CDC since the COVID-19 pandemic began. The staff is also delivering carryout orders to people curbside, as they wait in their car, as an added measure of safety to help prevent the spread of the virus.