Keeping the Dollar Black: Meet Abreetta Bonner of Bree Nicole & Co.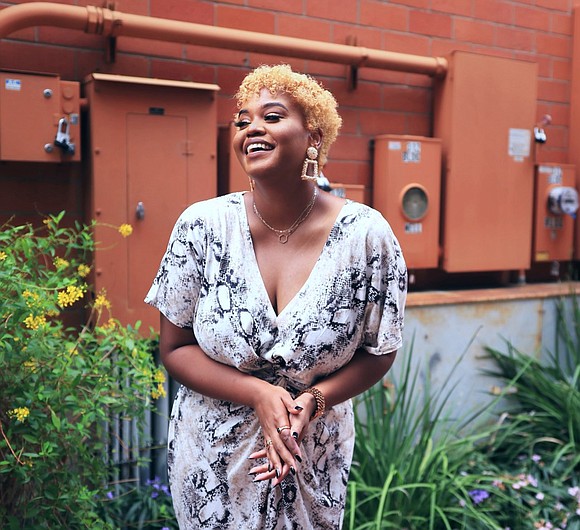 A new entrepreneur has to have vision in sights unseen, a strong belief in self to achieve success, and a whole lot of faith to keep pushing during the ups and downs. Abreetta Bonner had all of these characteristics when she launched her luxury lifestyle brand business, Bree Nicole & Co., in the middle of a pandemic.
The entrepreneurial life was embedded in Bonner at birth. Her father, the late Harding Goode, II, had always been in business for himself running his trucking and demolition business. She saw up close the late nights and early mornings. She witnessed him contemplate decisions and whether he was moving too fast or too slow. She was right there when all her father's strength was gone and he running on pure passion for the industry he loved and the business he built. Her father inspired her to do as he did - create something out of nothing.
Bree Nicole & Co. was established officially in December 2020. Much like her first post on business Instagram of a lit match, Bree was burning at both ends. By day she is a higher education administrator, PhD student, digital content creator, wife, friend, sister, and daughter. And by night she is the CEO of a company with two individual brands. Her day job pays the bills while her night job ignites her dreams.
Whether it is used to illuminate a dark room and/or add a pleasant fragrance to the air, a candle can be found in every home in America. In Bonner's childhood home a burning candle meant the kitchen was clean. Every time her mother washed the dishes, wipe the countertops, and swept the kitchen floor she would complete her kitchen clean-up by burning a scented candle. Bonner remembered how that small routine act played such an important role in how she manages her home to this day. She associates burning candles with cleanliness and good hygiene, which impacts her mental health. Bonner feels that she operates better in a clean space. In a nod to her mother, she established Bree Nicole Candles in December 2020.
Taking her first orders as presale only, Bonner released the luxury candle collection, which included four candles. #InMyBag is a holiday candle that is 100% soy with fragrances of cranberry, vanilla, and cinnamon. Too Blessed To Be Stressed is a candle that smells like peppermint. Her signature candle Bree Nicole gives self-care vibes with lemongrass and jasmine. From those three introductory scents to her now line that includes nine scents that make-up five collections, Bonner is killing the candle game. All of her candles are 100% soy, vegan, and not tested on animals. The candles come at two different price points - 4-oz mini candles at $20 for the Vacay Vibes mini collection (includes 4 candles) and 11-oz candles sold individually at $30 each. Candles have fragrances that invite users to relax, love, soothe, and let things go.
Seven months after the debut of Bree Nicole Candles, Bonner dropped Bree Nicole Cosmetics. Starting with lip-glosses, the line includes seven shades. Current colors are natural to varying pinks that sell for $10 a tube except for the premiere gloss that retails at $15. Packaging includes a large doe foot applicator. There is one collection, Southern Charm, that includes Darlin', Suga, Puddin', and Sweetie. All glosses are vegan, smooth, pigmented, moisturizing, non-sticky, long-lasting, and have glossy finishes. Lip-glosses are cruelty-free, paraben-free, gluten-free, and phthalates-free.
More is coming from Bree Nicole & Co. as the overall goal of the company is to bring everyday luxury lifestyle items to regular people with regular budgets.
In the future, Bree Nicole Cosmetics will have a full makeup line with foundations, blushes, eye shadows, lipsticks, and more.
Her advice to others seeking success with their business is to always have a plan mapped out with a well developed budget. Doing this has saved Bonner money by buying intentionally and not wasting money. Her second tip is to test products out with small groups before introducing them to the public. Bonner tested out several scents for candles and those the group didn't like didn't make it in any of her collections. She approached the glosses in the same way. This helped set her up for success since she knew she was putting out her best products in scents people wanted. Lastly, she advises to never skim on packaging. Invest in branding and in your business.
As a new entrepreneur, Bonner is her only employee as she creates the products, develops the brand, promotes the products, and processes the orders. She calls herself the "epitome of small business." Bonner said, "I wanted to be as hands-on as possible."
Being a businesswoman has Bonner in a constant state of learning as she goes. In this process, she has had some incidents that some would call failures but to Bonner those are lessons to fuel accomplishments.
With every move she makes with Bree Nicole & Co. Bonner's goal is to help and educate people on living luxuriously on a budget. "If it does come in any form of that then my goal has been reached," said Bonner. Every turn keeps Bonner looking for how she can grow and make her business better as she will always be "forever networking, connecting, and trying to get a booking and form a booking,"
August is the perfect month to support a business like Bree Nicole & Co. since it is Black Business Month. Consumers are encouraged to be intentionally with their spending and do all they can to ensure money stays in the African American community.
Abreetta Bonner is a native of Houston, TX. She is an educator, content creator, and doctoral student. She is a social media influencer with over 500 subscribers on YOUTUBE where she documents her daily life & health & wellness tips. She is married to John Bonner who is neo-soul R&B artist with an EP called "Love Let Go." Check out BreeNicoleCo.com or JDariusMusic.com to keep up with the Bonners.
More Black-owned businesses will be featured in our "Keeping the Dollar Black" series on StyleMagazine.com