H-E-B Partners With Local Couple To Expand Their Entrepreneurial Dreams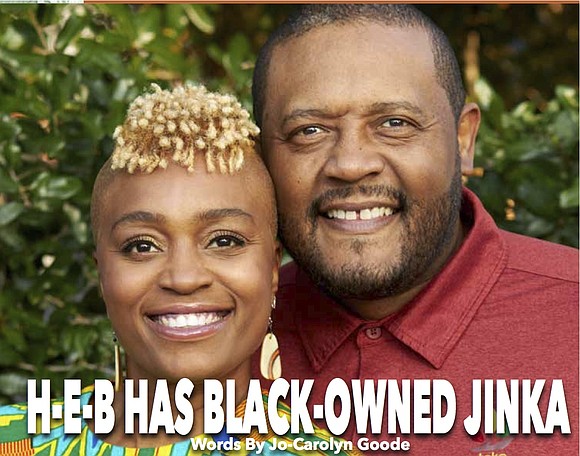 Hope is something that is sought when desperation sets in. The source of that anguish can be from all sorts of things. For Kim and L. J. Williams their sense of despair was from a health scare. During a time in their lives when they were the happiness celebrating the birth of their second child, they got hit with the news that Kim was prediabetic. That is a condition where one's blood sugar level is higher than normal but not too high for a diagnosis of Diabetes. Kim was looking at a future where her heart, blood vessels, and kidneys could suffer long-term damage. L.J. did not want that future for his wife and they both needed a bit of optimism to see beyond the illness. The Williams found hope when they learned that one's fate with prediabetes may be turned around by making dietary changes, increasing physical activity, and maintaining a healthy weight. Armed with the facts, L.J. got to work saving the life of his wife and in the process starting a business and gaining a new purpose in life.
With a laser focus and the future of his wife's health, L.J. went to work researching herbs and organic products and their healing properties. As he read and documented his attention was drawn to Jinka, a natural anti-inflammatory product. Leaning hard on his faith and artistry, L.J. crafted a formula that combined nine ingredients – premium turmeric, ginger, nutmeg, cinnamon, pink Himalayan salt, coconut oil, date sugar, and alkaline water – to develop Jinka.
"We were guided by our ancestors," said L.J. who professed that neither he nor his wife had a medical background. "I knew what I wanted to attack." Diabetes had better watch out. L.J. was hot on its trail.
Kim began taking Jinka on a regular basis and within a few months they saw the results they were seeking. It was just what they wanted. Kim's pre-diabetic diagnosis was no longer something they had to focus their energy on. Her inquisitive doctor asked what changes did she make. Proudly, she said taking Jinka.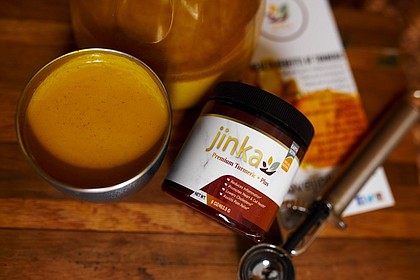 Continually use of the product and research revealed to the couple that it was much more powerful than previously thought.
Jinka, specifically the turmeric element in the product, had healing properties far greater than anti-inflammatory.
*Reduces inflammation – Inflammation is the reaction of your body to foreign material in your body. Jinka contains numerous minerals and vitamins including Curcumin. It is that ingredient that gives the product the ability to reduce inflammation.
*Promote Heart and Cell Health – According to their website, Jinka enriches the general health of the cardiovascular system by enhancing the blood vessel's lining. When the endothelium is functioning well the blood pressure is then under control reversing the progression of heart disease.
Houston area cardiologist, Dr. Baxter Montgomery, stands behind the claim according to the couple. Dr. Montgomery, who specializes in reversing and preventing life-threatening illnesses, regularly advises his patients to take Jinka. His patients constantly tell him how well the product worked for their heart health and other benefits.
*Lower Cholesterol – Curcumin, the element in Jinka, acts as an antioxidant to control LDL oxidation thereby keeping it useful versus destructive. LDL receptors are raised to help provide LDL cholesterol extra space to function thereby stopping the flow of it going into the blood capillaries and oxidizing.
*Assist in Pain Relief – Pain in the body is decreased when taking Jinka because of its antioxidant anti-inflammatory properties that impacts offset free radicals that are responsible for the deconstruction of cell membranes and healthy cells.
"We believe inflammation is the root of all disease. So whether that is something as big as cancer, high blood pressure, or high cholesterol, if you can rid the inflammation, you could potentially reverse the disease," said Kim.
Just when Kim and L.J. thought they had Jinka all figured out, an added bonus was discovered…weight loss. Some of the herbs in Jinka act like an appetite suppressant making Jinka have five health benefits.
Although Kim and L.J. will tell you again and again that they are not healthcare providers but they are individuals who want better for their community. They want to stop seeing people die from preventable illnesses. This is what motivates Kim and L.J. to push their product so hard because people don't have to needlessly suffer. There is help and Jinka is the help. Time and time again their customers tell them about things they couldn't do because of an ailment and now they can. Or how they had high blood pressure and now they don't. Or even how they were taking 10 medications daily and now only take two. People who are known to suffer from eczema, arthritis, low testosterone, high blood pressure, Leukemia, cancer, Lupus, and more have praise reports about how their medications have been reduced, how they have renewed energy, and how it healed their body. Jinka is a real solution to real problems with real life-changing results.
Kim and L.J. knew Jinka worked for them. They also knew it worked for their family and friends. It was time to take the business on the road selling at mom and pop shops, community fairs, and festivals. James Harris, H-E-B's Director of Diversity & Inclusion and Supplier Diversity, happened to be at one of those community events when Jinka caught his eye. Harris was already somewhat familiar with the product as he heard about it from a fellow H-E-B employee who was taking it. The employee must have been really convincing because Harris wanted to know more about Jinka. The more he learned the more he thought about how H-E-B customers could benefit from the product. He must get Jinka on the shelves of H-E-B.
H-E-B executives loved the product and started stocking their shelves with it. Harris couldn't have come across Jinka at a better time. COVID-19, like many other things, caused H-E-B to cancel their annual Quest for Texas Best statewide competition that searches for the best culinary creations. Winners of the competition win cash prizes and space on H-E-B shelves. Since the first competition in 2014, over 3,000 products have been considered as Texas' best with almost 450 products getting the coveted title. However, the pandemic made the grocer executives think differently about how they were going to find new brands to showcase in their store.
Meanwhile, Kim and L.J. had their eyes on H-E-B for several years but never made that right connection. They believe it was divine intervention of the most organic kind that allowed their paths to cross with Harris. Although their journey has started out different than most, it has been nothing short of amazing.
Having Kim and L.J. join the H-E-B family has helped H-E-B and the community in several ways. The grocer's commitment to diversity and inclusion is further reached with the Black-owned small business sector by adding another company to their fold. Customers have access to another product to improve their well-being. Jinka makes history with it being the first Black owned product in H-E-B's health and wellness section. Finally, H-E-B is growing the economy by supporting another small business.
"H-E-B created a space to bring in more Black products," said Kim, who is a serial entrepreneur with her husband. "We can't go wrong with this partnership. So we are excited to just learn."
H-E-B fully supports entrepreneurs that they bring on board. Advisors walked business owners through the ropes of operating a business and staying in business. Kim exclaimed that H-E-B has been so generous with the opportunity as she has learned so much.
" I have a heighten awareness of excellence in every area," commented Kim. " I have learned to be very clear and direct with what I want."
That mindset has paid off in a major way for the Williams as they have achieved their goals and more. In the beginning, Jinka was something for his wife to save their family, now their mission has become all about giving back to the community that has given them so much. Now the Williams can be found promoting Jinka but more so educating people on the health benefits of natural herbs and helping other Black-owned entrepreneurs.
"We are very clear about not being ok that we are the only ones in the room," stated Kim.
L.J. knows how blessed his family is to be given such a life-changing opportunity to work with H-E-B. But they also know that there are other Black business owners dreaming the dream that they are now living today.
"Often we share with other brands the knowledge that we are learning. We are available for questions. We encourage people that don't have products to develop products because we know what this space can bring." Kim continued, "Also, we encourage people that have products that have been doing them for years within the family that haven't thought about maybe batching it and making it a product. So right now a lot of it is sharing the knowledge that we are learning."
The cycle that this partnership created with reaching to one and having them reach out to someone else is how H-E-B continues to make things better by being the change they want to see in the world. Their new initiative, Be the Change, amps up their inclusion and diversity program to make them a better retailer, employer, and community partner to build the economy, provide more opportunities, and put underrepresented businesses on an equal level.
Kim and L.J. are proud to be apart of H-E-B's change and are ready for where this journey takes them.
For more information about Jinka, visit HEB.com, ILoveJinka.com, or contact L.J. at (409) 678-3312 or admin@ILoveJinka.com. Check them out on Facebook, Instagram, and Twitter.