Meet the Female Mogul of ManCave Atlanta, CEO Darnika Platt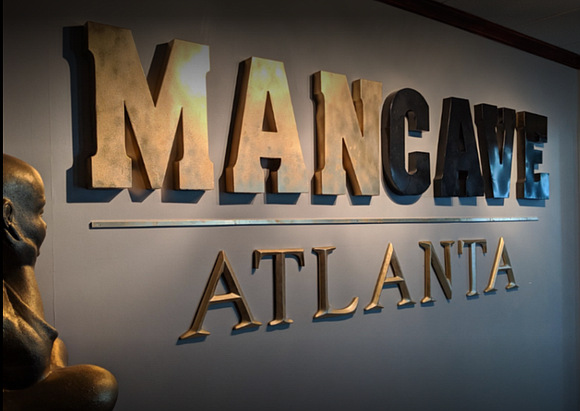 It's known that men often go without proper spa services; even some never experiencing a manicure or pedicure in their lifetime. Then you have the fellas who know that self care is best care; yet, they are judged for pampering themselves at the local nail shop.
Those days are over! The ManCave Atlanta is here and it is elevating the spa standards for men.
Just for clarification, we know the term "ManCave" is defined as a room or other part of a home used by a man as a place to relax and pursue hobbies away from the rest of the family. It's often dark, messy, with a ripped old leather couch and sports paraphernalia.
This is the complete opposite at the ManCave Atlanta. This new upscale men's spa and event facility, located in the Lindbergh neighborhood of Atlanta's luxurious Buckhead District is the official spot for men self care days.
Founder and Owner, Darnika Platt is the visionary behind this esteemed establishment and Reggie Dominique of PerfectPublicity.net had the opportunity to for a one-on-one interview with the female entrepreneur.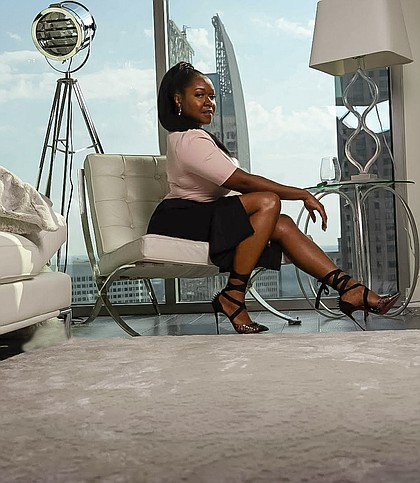 RD: For our readers who may not be familiar with you, introduce yourself and give us a little background story of your works?
DP: I'm originally from Grand Rapids, Michigan, where I grew up working with my parents in their tax business. Later on, I started my own successful tax business that I took with me when I decided to move to Atlanta. Most of my life has centered around entrepreneurship. I come from a family of business owners and I naturally became a business owner.
RD: What made you want to do this project? How did you know what men wanted in their Man Caves to make it successful?
DP: I've always been the type of girl who likes to pamper herself. I frequent spas, nail salons, and other facilities for self-care. After a while I started noticing that more men were frequenting the same places as me. Naturally, I began to talk to them and find out that men enjoyed getting facials, massages, and nail services like me. The only difference was that most of the places that provided these services catered mostly to women, so a man who wants a pedicure generally has to go to a nail salon where he will have to put up with the smell of nail polish and acrylic.
Talking to the men about the services they enjoyed and what they wanted was just my first leg of research. As I got more interested in the idea, I began researching the industry. I know finances, but I had no knowledge on the wellness industry and what it took to run a spa, so I educated myself.
RD: Of course, Atlanta has its fair share of venues through the city. What would you say makes the ManCave Atlanta the place to be over the other competitors?

DP: We outdid ourselves when it comes to ManCave Atlanta. We often say that it's the kind of place that you can't really explain to someone, they have to see if in person. Every person who walks through our doors literally drops their jaw when they see our facility. I designed it to be everything that a man would want, but it's more polished and not rugged, that's the woman's touch.
We honestly don't really have any competition. Yes, more facilities for men are starting to pop up, not just here in Atlanta but all over the country, but most of them aren't upscale like us and they don't offer everything that we offer. Yes we provide massage, manicure, pedicure, and esthetician services. However, we also have a sports and business lounge, a cigar lounge, and private barbering services. We're the type of place where you can come after work, get what you need done and stay to enjoy the game or network with other professional men.
RD: You could have opened a Beauty Bar, Salon, Nair Bar, or clothing store. Why create a space for men to come and relax?
DP: Because the idea came from my experience with men and it's unique. There are plenty of places for women, the market is saturated with them. However, not many places for men and that's a large demographic to service. Even if 10 more facilities similar to us pop up, we still have a customer base to cater to. The demographic is there, the demand is there, all we have to do is create the supply for them and it's definitely paid off.
RD: What would be the ideal day or relaxation at ManCave Atlanta? What type of services can men expected?
DP: At ManCave Atlanta you can go one of two routes. You can be a walk-in customer or a member. However, due to COVID-19 all of our services are currently scheduled in advance. Walk-in customers just have access to our core spa services which includes manicures, pedicures, massage, and esthetician services. Also, our core spa services are available to both men and women.
However, our memberships are only available to men. A member not only has access to our spa services but also to our lounges and private barbering services. As a member you can come into the lounge, before or after your services, and enjoy watching television, grab some food or a drink, and network with other members. You can also choose to take out your laptop and do some work.
Members also have access to the cigar lounge which is set up specifically for cigar aficionados. We also hold exclusive events in these two spaces from time to time in these spaces, which provide unique experiences for our members.
RD: What type of thought process when towards the planning and the overall concept of ManCave Atlanta?
DP: Like I mentioned before, a lot of research. Also, the design and construction, which I learned a lot during the process. When you're building out a space, a lot of planning and process have to be done from architecture designs to permits, inspections, and much more.
RD: Last but not least, what can we expect from Darnika Platt in the future!?
DP: I definitely want to have more locations, which is something that we're working towards. I can't say too much right now, but just know that we're definitely working expanding.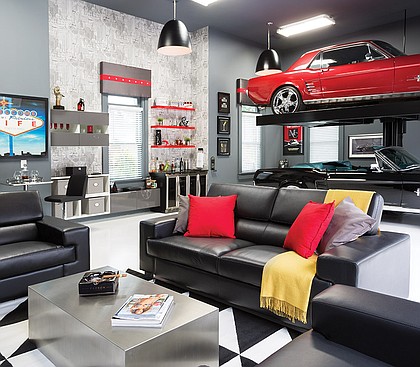 Fellas, don't neglect yourself. Self care is important. The next time you find yourself in ATL, make your way to ManCave Atlanta for the ultimate pampering day.
ManCave Atlanta 2139 Liddell Dr NE, Atlanta, GA 30324 Phone: (404) 587-6961