The Billionaire Beverage Ball Is Set To Take Over Houston This Weekend at Starshine Texas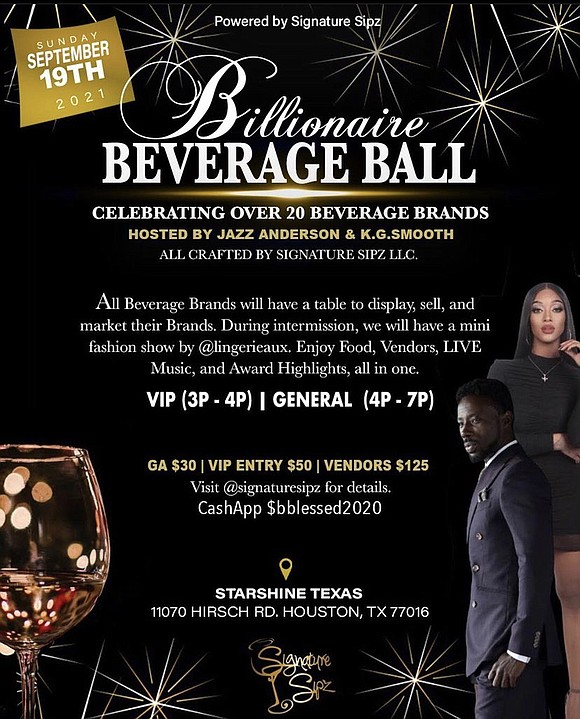 The highly anticipated Billionaire Beverage Ball is slated to be a star-studded occasion you do not want to miss! It's more than just another event where drinks are flowing with tasty food, Signature Sipz, LLC. is bringing the industry out and creating a networking atmosphere for entrepreneurs. From coast to coast, over 23 in-house beverage brands will be under one roof ready to share with tastemakers their unique concoctions. This year, Celebrity Beverage Pioneer Hope Foster is taking things up a notch with a one-of-a-kind martini bar and an elevated VIP section.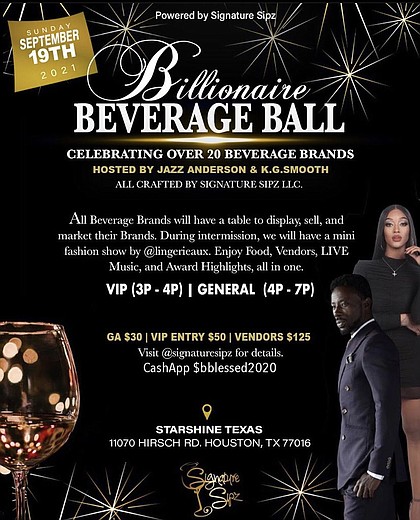 Event attendees can enjoy samplings from the various beverage brands while listening to live music and an array of entertainment! If you were able to attend last year, you might remember the Lingerieaux fashion segment. Well, they are back in the building to bring another round of sexy eye-catching fashion! In addition to the various social elements taking place, there will also be performances by BET Music Matters artist Chantaul Williams and Houston's own R&B crooner Kalvin Kosha who both have their own beverage line! Last but not least, this year's event will be hosted by Fox Soul 'The Mix'/Artist Jazz Anderson and Majic 102.1/Ready To Love Star, KG Smooth.
"September 19th is extra special because we recently received our own Signature Sipz Day in the city and it is my mother's birthday weekend.. Everything I've worked hard for has lead to this and it has empowered me tremendously to continue growing our brand," Hope stated.
Sig Sipz recently announced their Beverage Brand Partnership with R&B Legend Tweet and we can't wait to see what is to come of the collaboration in the near future!
Come and get up close and personal with some of Sig Sipz most successful Beverage Partners! It's Time To Shop!
-BRANDS-
Millionaire Mimosa
Gwendolyn D'Nise
Bailee Blu
Honey Water
Good Vibes Moscato
Red Wishes
Kizz My Legacy Wine
Trophy Moscato
French Berry Moscato
Soul Ties
Buckle Berry
Le'Grand Plaisir
Red Pearscato
Eminence
TasteTee Moscato
DeMoss Wine
Buss It Down Berry
Innovative Moscato
Chemistry Rose'
Island Vibes Wine
Chan Wine Moscato
-VENDORS-
Moods
Beauti Beads Bangles
Spicy Dark Cosmetics Collection
That Butta Baby
Fannie Sweets
Second Line Candle, Co.
Special Mention:
Houston Mobile Henna will be giving complimentary hennas to the first 5 guests! Also, KT Beauty Boom will be sponsoring some awesome hair products!
Signature Sipz will take extra precautions to keep the venue sanitized and safe throughout the event!
Location: Starshine Texas
11070 Hirsch Road (it's a hidden gem)
Be sure to follow @signaturesipz on Twitter, Facebook & Instagram
For more information about the forthcoming event, please visit: Eventbrite