LEROI: Living in Color On view Friday, November 11, 2022 – Sunday, March 26, 2023
Internationally acclaimed artist LeRoi Johnson's retrospective exhibition encompasses a transformative new approach to community collaboration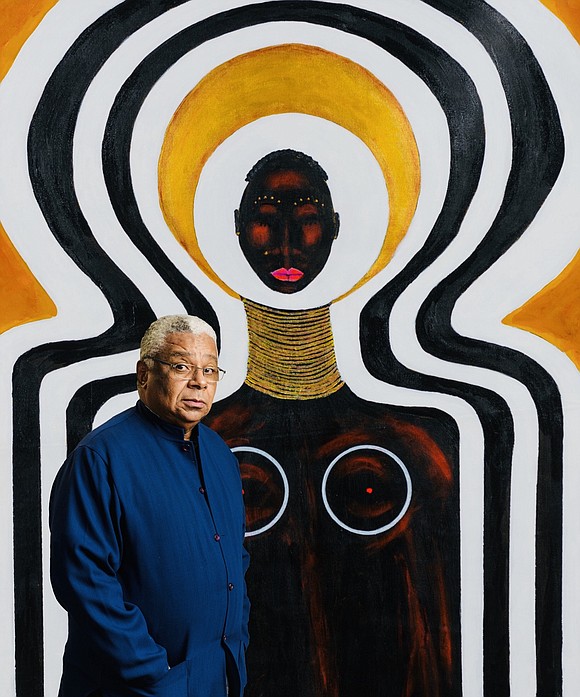 Bold, bright colors, a spirit of community connection, and cultural exchange are all central to the work of renowned artist LeRoi Callwell Johnson. Incorporating a vibrant span of influences from personal experiences, and African, Caribbean, and South American cultures, Johnson's paintings have been exhibited and recognized in major art centers across the United States and around the world. Now, on November 11, the Burchfield Penney Art Center at SUNY Buffalo State will present LEROI: Living in Color, the artist's first museum retrospective. Over 70 pieces of Johnson's artwork will be on display in what he defines as the most significant exhibition of his 50-year career.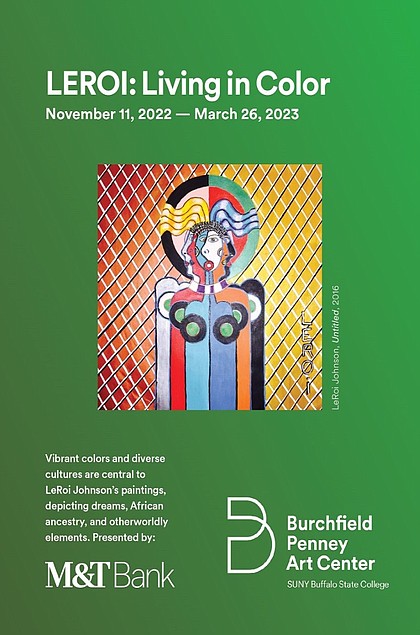 "This exhibition, LEROI: Living in Color, is significant for two reasons," Johnson stated. "It will be my first major show in a museum and in my hometown of Buffalo, which is fitting and most meaningful to me. Additionally, this exhibition will include the works of 80 Buffalo student artists who have produced multimedia, written, and sculptural responses to my work. It has been my honor to help them expand their artistic experiences and realize that their talents can lead them to careers."
Recognizing the artist's lifelong dedication to engaging youth with the arts, the exhibition includes an innovative partnership between Johnson, the Burchfield Penney, and several local community organizations. Student participants at Buffalo Center for Art and Technology (BCAT), Squeaky Wheel Film and Media Art Center (Squeaky Wheel), Just Buffalo Literary Center (Just Buffalo), and the Buffalo Public School (BPS) have engaged with Johnson's work.
Each youth worked individually with Johnson and educators from each institution, studying general art concepts, learning about his career and techniques, and partnering in formulating genre-based responses to his work. These artworks range from audio/visual creations to works of poetry and prose, sculptures, and paintings, all of which will be interspersed throughout the exhibition.
"This project recognizes Johnson's artistic influence in the Buffalo Niagara region and celebrates his life-long commitment to art and education," noted Burchfield Penney acting director Scott Propeack. "Like Johnson's work, important conversations in the arts should always seek to incorporate learning opportunities and amplify voices across generations."
Johnson acknowledges that his desire to help amplify other artist's voices is directly influenced by his relationship with famed Brazilian senator, civil rights activist, author, playwright, and artist, Abdias Nascimento (1914-2011.)
"I first met Abdias in Brazil in the late 1990's. We bonded
immediately, and he not only became my mentor in the art world, he became one of my closest friends. His support raised awareness of my art, which provided connections and platforms through which to exhibit my work around the world. His generosity in extending himself to artists, like myself, is what has inspired me to support others, such as these student artists, and provide them with opportunities to showcase their talents."
For more information on LeRoi Johnson: http://leroiart.com/
For more information on LEROI: Living in Color:
https://burchfieldpenney.org/exhibitions/exhibition:leroi-living-in-color/