City Council Votes Against Pappas at Hobby Airport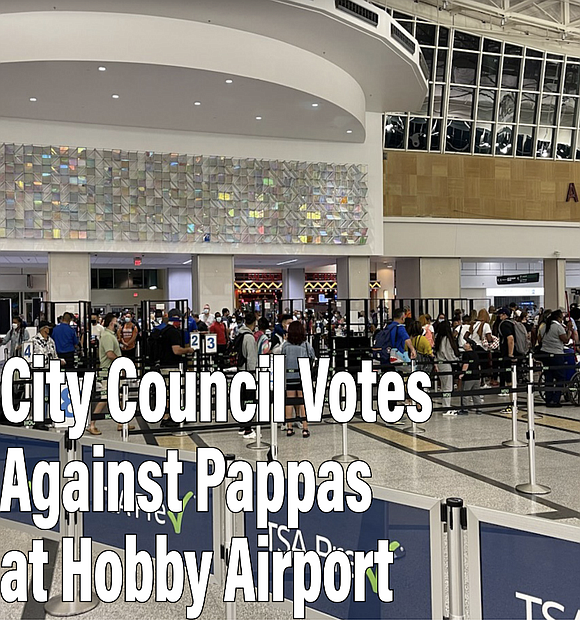 Money is one of the quickest ways allies can become foes. For over two decades, the Pappas family restaurant chain has considered itself a friend of Houston. However, bonds are being tested and may break in the latest battle of contract negotiations over who will reign as 'king' concessionaire at Houston's William P. Hobby Airport.
In one corner is the Houston-based hospitality brand – Four Families, which residents and visitors alike of the Houston area have fallen more in love with each passing year. We know them for their Texas flair, extra-large portions, and high prices. In the other corner is the not so familiar face of Areas S.A.U. hospitality out of Spain, which caters more to train commuters via airplane commuters. They are looking to gain a better footing in the US market.
The History and Problem That Started the Fight
Four Families is used to fighting for what they want in Houston, even if they must throw some shade. The company "won" the fight to sell food in Hobby Airport in 2003 after going toe-to-toe with a New York based company, CA One Services. Both companies put in bids to be the airport concessionaire at Hobby Airport after a call for requests was made in 2002 to various companies. Through the city's procurement process, the competition for the $234 million contract was dwindled down to Four Families and CA One Services. Houston City Council was set to decide on a winner based on a scoring process where design, management, and other entities in each company's proposals were being evaluated. But proceedings were slowed down when several questionable things occurred.
Questionable #1: According to the Houston Chronicle, Four Families was not originally on the council's agenda for contract consideration for weeks.
Questionable #2: Questions swirling about how CA One Services even got recommended to make a bid for the contract delayed a council's vote.
Questionable #3: A supposed private investigator snooped out that Four Families had appeared to have originally beaten CA One Services after scoring evaluation.
When proceedings began to move forward again, the scoring process plus rent were reviewed, and it was determined that CA One Services was the winner of the contract since the city would stand to make more money based on their projected profits and the amount of money they would pay the City of Houston. Four Families allegedly found out what that figure was and said they would pay the same amount. To further ensure that they would get the contract, reports have said that Four Families convinced several councilmembers to side with them over CA One Services, even though the then sitting mayor, Lee P. Brown, was in favor of CA One Services.
CA One Services followed suit and sued the city in federal and state court. The Houston Chronicle reported that CA One Services claimed the city violated competitive bidding statutes, which prohibit a city from awarding a contract through competitive bidding. The suit also claimed the city violated the Texas Opening Meeting Act, which requires government entities to keep public business open to the public. The city had previously negotiated a contract with CA One Services but substituted Four Families name in the contract after councilmembers changed who they were supporting. Later, CA One Services dropped the lawsuit after the city agreed to extend its contract with Bush Intercontinental Airport by four years.
Back-to-Now
The contract that Four Families, aka Pappas Restaurants, currently has with the city at Hobby Airports is set to expire. And just like in all businesses, when something looks good, others will gasp for their piece of the pie as soon as an opening looks available. Area S.A.U. Spain saw an opportunity and is seizing it. Areas S.A.U. is offering a 10-year, $470 million contract where the city would see a higher profit than it would with the Pappas' proposal. Does this scenario sound familiar to you? Well, there is more familiarity. Like Four Families' previous fight, there is some questionable behavior.
Questionable #1: The "Save Our Pappas" Campaign - You might have noticed that at all restaurants in the Pappas' chain, their banners now read "Save Our Pappas." Obviously, it is a campaign to get Houston City Council to pick their bid. The campaign has a petition that has the backing of more than 39,000 signatures. The ugly part of the campaign is that Pappas is allegedly claiming that Mayor Turner is pocketing the money from contracts and not the city. Hence, he is supporting the higher bid. Mayor Turner is, of course, denying all claims and has called the petition, in addition to other statements, a smear campaign.
Questionable #2: A Rough Procurement Process – The city has cancelled the request for final bids twice since starting the process in 2019. The first time, it was cancelled due to the start of the pandemic. The second cancellation was due to too-close scoring. Pappas' CEO has requested clarity.
So, in this second 'food fight,' what is most important: old money with the old or more money with the new?
The Final Decision
After four weeks of deliberation, Houston City Council finally voted on who would be the concessionaire king at Hobby Airport. With 11 votes for and 6 votes against, Areas S.A.U. won the Hobby Airport concessionaire contract. Travelers will now see such eateries as The Spot, The Spot Bar, Pei Wei Asian Kitchen, Killen's Barbecue, Longhorn Steakhouse, Yard House, Spindletap Brewery, Starbucks, Throughgood, and Clutch City Coffee.
Pappas representatives said the decision was disappointing.