Explore a Foodie's Paradise at the Houston Livestock Show and Rodeo
Alex Jack | 3/15/2023, 2:49 p.m.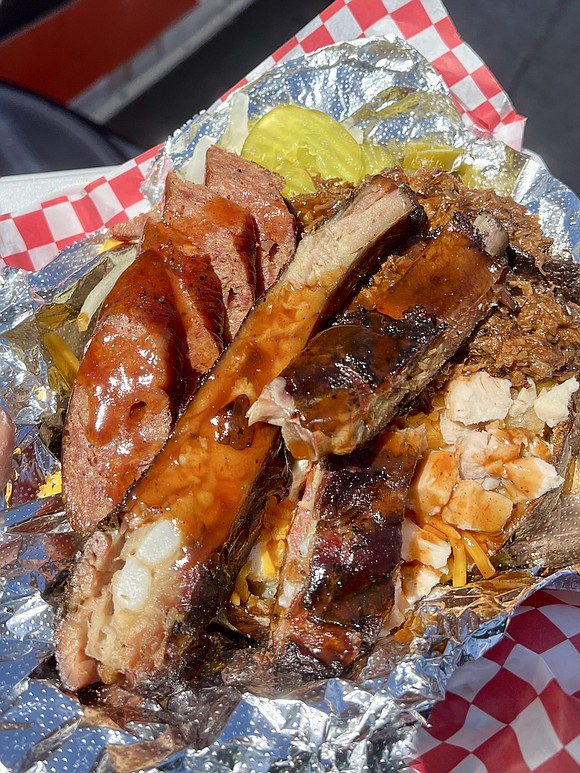 The Houston Livestock Show and Rodeo is a much anticipated annual event that brings together cowboys, musicians, and FOOD LOVERS! The rodeo is a foodie's paradise, with many options to choose from while walking the carnival grounds or enjoying live music. Houston Style Magazine tasted some of the best rodeo foods you should try!
Our first stop was at Houston's most popular pop-up and soon-to-open brick-and-mortar in Montrose, Trill Burgers! We love this thoughtfully crafted burger for the smash burger-style meat, potato bun, and delicious sauce! It is such a simple burger, but it is packed with lots of flavors.
Next up, we had the honor of trying the first-place winner for Best Fried Foods at the Golden Buckle Foodie Awards, Minniapple Pie's Deep Fried Cookie Dough. You are greeted with a beautiful cookie dough explosion as you bite into this crispy piece of heaven. Make sure you have napkins! We did not leave Minniapple Pie without trying one of their delicious handheld apple pies topped with cinnamon sugar dust.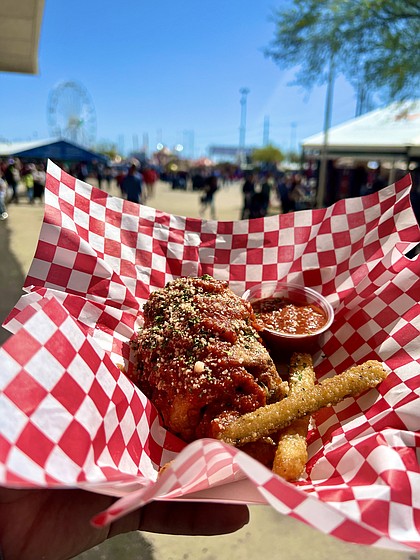 Right on the same row, we tried the second-place Best Fried Foods category winner for the Golden Buckle Foodie Awards, Southern Fried Saloon's Fried Lasagna Roll! This was a spin on a classic dish built with rodeo expectations. The Fried Lasagna Roll was fried crispy and filled with everything in a lasagna, topped with a robust marinara sauce.
If you want an adventurous bite, you must stop by Pioneer Wagon for their Rattlesnake Corndog. Tied for second place in the category of Most Creative Food at the Golden Buckle Awards, this exotic bite will surely bite back. This corndog is filled with diamondback rattlesnake sausage, dipped in a crispy yet fluffy corndog batter, and fried to perfection. If you are wondering what rattlesnake meat tastes like, just know it has the flavor of a bratwurst. However, the key to the flavor is cooking the rattlesnake meat in chardonnay, which knocks out the gamey taste and leaves you with a delightful flavor.
BBQ is a must when taking a foodie adventure through the rodeo grounds! Our first BBQ stop was a crowd favorite, Triple J's Smokehouse! They are serving up some rodeo favorites: Brisket Sandwiches, Smoked Boudin, St. Louis Spare Ribs, Beef Baked Potatoes, Sausage on a Stick, and Turkey Legs. Triple J's knows its way around BBQ and is a must-try!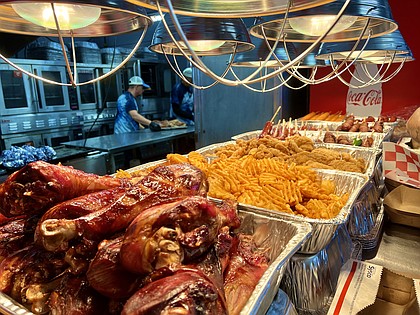 The next BBQ stop was Holmes Smokehouse. Many of you will recognize the name from their famous pecan smoked Sausage sold at your local grocery store. They are serving up their fantastic Sausage on a Stick, available in original and jalapeno. For patrons who enjoy their sausages but want to add more flavor, try their Sausage on a Stick wrapped in bacon. Their menu includes our other favorite rodeo bites, like Footlong Corndogs and Jumbo Turkey Legs.
Our last BBQ stop was the 2022 Golden Buckle Foodie Award winner for Classic Fair Food, Harlon's BBQ. Harlon's BBQ, let us try their award-winning All Meat Stuffed Potato! You can taste the award-winning flavor in every bite.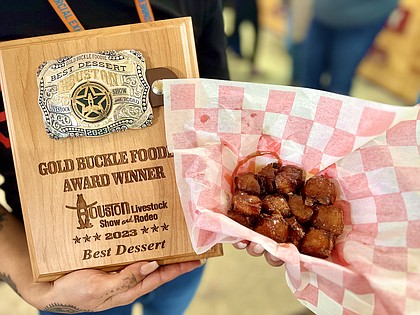 Finally, we had the Golden Buckle Foodie Awards Best Dessert winner, Cajun Cowboy's Deep Fried Bread Pudding! Crispy on the outside but gooey on the inside, bread pudding bites are topped with a delicious sauce. Whether you eat with your hands or a fork, these pop-in-your-mouth cubes of bliss will be gone faster than rodeo clowns running from a bull. Just for advice, be ready to buy a second batch.
Check out these excellent foodie spots and more at the Houston Livestock Show and Rodeo!