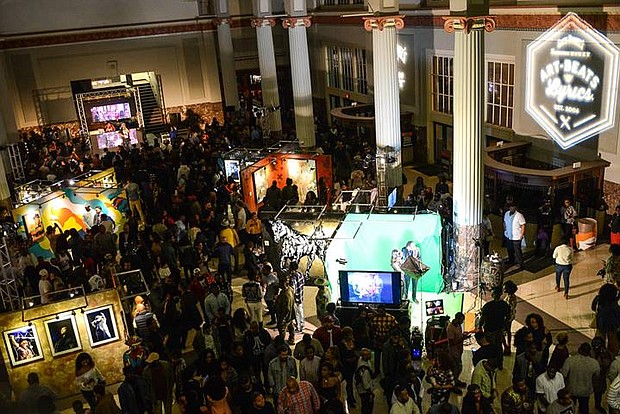 A capacity crowd came out to represent for H-Town at Art, Beats and Lyrics event at Minute Maid Park. Presented by Jack Daniel's Tennessee Honey, Art Beats and Lyrics showcases some of today's best upcoming artists, along with seasoned veterans in art and music under one roof. For information on Art, Beats and Lyrics please visit www.JackHoneyABL.com. (Photo by Kat Goduco/AB+L)

Stories this photo appears in:

It's a vibe! Art, Beats & Lyrics presented by Jack Daniel's Tennessee Honey brought its talents to Houston! The traveling lifestyle experience was hosted by Minute Maid Park, home of our World Series champions; The Houston Astros. The event featured visual masterpieces as well as interactive talents, technology and more from renowned artist across the country. Couple that with some live DJ's including Houston's own DJ Big Reeks of The Waxaholics, a headlining set from the legendary, hip-hop producer and DJ: Mannie Fresh; and a donation to benefit devastated Hurricane Harvey areas and you have captured the essence of AB+L.