Welcome Home: Andre Johnson Retires as A Houston Texan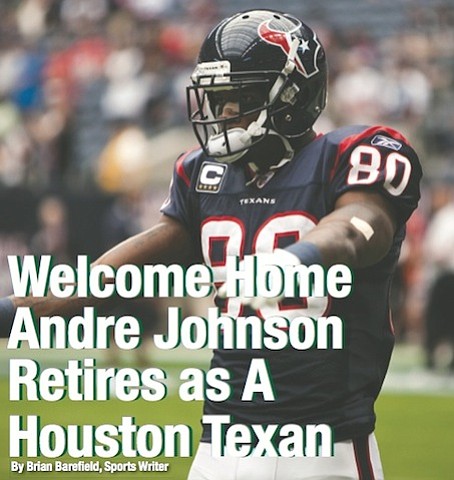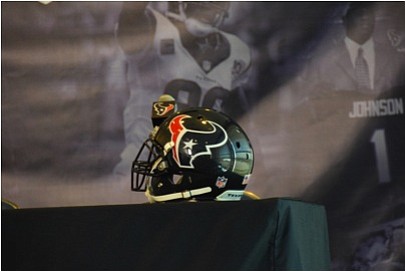 After the 2014 season, Johnson left the Texans organization and played the next two seasons for two different teams (Indianapolis Colts and Tennessee Titans). And although he was in different uniforms, it never changed how he felt about the city. "The NFL is a business and when I left the Texans I knew it was a business decision that had to be made. Even though my heart never left this place," says Johnson. The former 2003 first-round draft pick will continue to call Houston home and work with his non-profit organization (The Andre Johnson Foundation) that provides programs for kids in single parent homes. His heart for the community of Houston is just as big as his love for the game. His generosity is widely known throughout the city.
When asked what advice he would give kids in high school and college who strive to be like him one day. The seven-time pro bowler said, "Stay in school and make sure your grades are good. Listen to your teachers and when you hit the field, play hard." That's great advice coming from someone who always played the game the right way.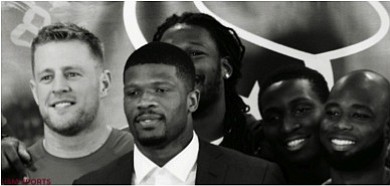 At the end of the press conference, Johnson was joined on stage by his former teammates and coaches. He stood in the middle of potential future Hall of Famers in Watt, Clowney, and Hopkins as a sort of the role model/big brother. Still looking like he could suit up for another season and probably would given the opportunity. In typical Andre fashion, he smiled big for the camera for the last time as a Houston Texan. "My career ends here. Very excited to come back home, said Johnson. Houston is excited to welcome you back home too. We are sad to see you go but are elated that you will forever be linked to this city and our hearts. Andre Johnson is forever a Texan. Thank you, Mr. Johnson, for all the memories you have given Texans fans. Good luck to you with your future endeavors. #ThankYouAndre