Cardinal Bernard Law, Symbol of Church Sex Abuse Scandal, Dead at 86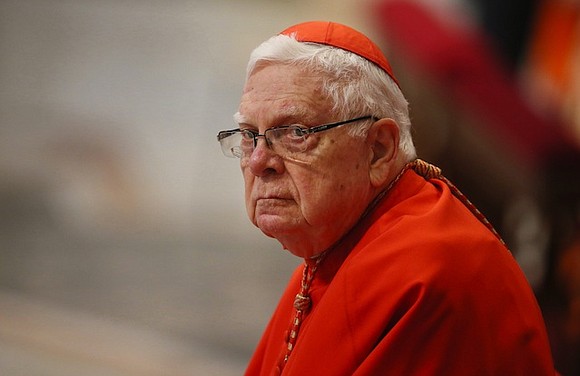 By Emanuella Grinberg, CNN
(CNN) -- Cardinal Bernard Law, the former Boston archbishop who resigned in disgrace during the church sex abuse scandal, has died, the Vatican has confirmed.
Law died in Rome, where he served as archpriest of the Papal Liberian Basilica of St. Mary Major after he was forced to resign as archbishop of Boston in 2002.
The scandal broke when it was revealed by the Boston Globe's Spotlight investigative reporting team that Law and other bishops before him had covered for pedophile priests in the Boston Archdiocese.
In a news conference, Law apologized to victims of abuse by a priest, John Geoghan, who had been moved from parish to parish, despite Law's knowledge of his abuse of young boys. Law insisted Geoghan's abuse was in the past.
Geoghan was eventually convicted of indecent assault and battery on a 10-year-old boy.
The Spotlight team's uncovering of widespread child abuse by the Catholic clergy in the Boston Archdiocese won a Pulitzer prize. The dramatization of the team's investigation, a 2015 movie also called "Spotlight," won the 2016 Best Picture Academy Award, bringing the story to a much wider audience.
The Vatican issued a press release early Wednesday confirming the death of Cardinal Bernard Law, with one line reading "Cardinal Bernard Law died early this morning after a long illness."
Law never faced criminal sanctions for his role in allowing abusive priests to remain in church parishes. The scandal reverberated through the church, exposing similar allegations worldwide that compromised its moral authority and led to years of multimillion-dollar settlements. To his detractors, his second career at the Vatican was a slap in the face to victims of church sex abuse, one that further undermined the church's legitimacy.
"Survivors of child sexual assault in Boston, who were first betrayed by Law's cover-up of sex crimes and then doubly betrayed by his subsequent promotion to Rome, were those most hurt," according to a statement from Survivors Network of those Abused by Priests after his death. "No words can convey the pain these survivors and their loved ones suffered."
The group advised the Vatican to keep the abuse survivors in mind when it comes to his funeral. It asked: "Why Law's life was so celebrated when Boston's clergy sex abuse survivors suffered so greatly? Why was Law promoted when Boston's Catholic children were sexually abused, ignored, and pushed aside time and time again?"
Timeline: A look at the Catholic Church's sex abuse scandals
Rise of Boston's spiritual leader
Law was born in Torreon, Mexico, on November 4, 1931, to Helen and Bernard Law, an Air Force colonel. He did his postgraduate studies at St. Joseph's Seminary in Louisiana and at the Pontifical College Josephinum in Columbus, Ohio. He was ordained as a priest in the Natchez-Jackson, Mississippi, diocese on May 21, 1961 and became vicar general of the Natchez-Jackson diocese in 1971.
In 1973, he was made bishop of the Springfield-Cape Girardeau diocese in southern Missouri. He served as chair of the Bishops' Committee on Ecumenical and Interracial Affairs and in 1976 he was named to the Vatican Commission on Religious Relations with Jews.