Trump, Putin High-stakes Showdown at G20 Ends After Over 2 Hours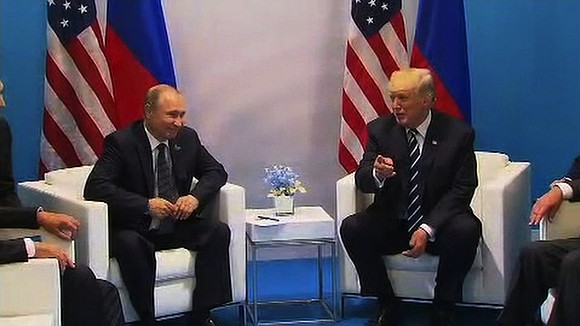 By Dan Merica
CNN
HAMBURG, Germany (CNN) -- President Donald Trump and Russian President Vladimir Putin's high-stakes meeting at the G20 summit here in Germany has ended, lasting four times its planned length.
Trump and Putin began the meeting at 4:09 p.m. Friday in Hamburg with light pleasantries, setting a more upbeat tone for talks full of prickly topics.
The meeting ended around 2 hours and 16 minutes later, said R.C. Hammond, a State Department spokesman. The talks were initially scheduled to run between 30 and 45 minutes.
The meeting put Trump, a man who ran for president pledging to buck US foreign relations conventions and put "America First," face-to-face with those promises as people -- including many Democrats -- in the United States urged the President to stand up to Putin, assert American dominance and challenge the Russian leader on 2016 election meddling.
Speaking to reporters at the start of their conference, Trump and Putin remained mostly positive.
"President Putin and I have been discussing various things and I think it is going very well," Trump said. "We have had some very, very good talks."
"We are going to have a talk now and obviously that is going to continue," Trump added. "We look forward to a lot of very positive things happening for Russia, and for the United States and for everybody concerned. And it's an honor to be with you."
At least during the public portion of the meeting, though, Trump declined to bring up election meddling and ignored reporters who asked him about the topic. Friday's meeting puts Trump in the same as the leader of the country that United States intelligence says meddled in the 2016 election in an effort to get Trump elected.
Putin, in a CNN translation, told Trump he was "delighted" to meet face-to-face.
"We have spoken on the phone with you several times on very important bilateral and international issues. But phone conversation are never enough," Putin said.
"If we want to resolve bilateral and acute international issues, we definitely need personal meetings. I'm delighted to be able to meet you in person Mr. President, and I hope -- as you have said -- that our meeting will yield positive results," Putin added.
High-stakes session
Trump's formal meeting with Putin, a pivotal encounter that will likely color the tone and tenor of US relations with Russia for years, sits atop Trump's schedule of critical meetings on Friday.
The White House was aware of the stakes for Friday. Top aides have worked for weeks to prepare for this encounter with Putin, known for his craft on the international stage, and experts have suggested the White House be prepared for a curveball from the Russian president.
Trump and Putin, before their official sit-down at the G20, briefly met and shook hands in what appeared -- according to video posted by the German government -- to be a collegial encounter.
Trump approaches Putin in the video as the Russian president stands at a high table during an introductory reception at the G20. Trump extends his hand and a smiling Putin takes it. Trump pats the Russian president's arm with his left hand during the greeting.