Chicks With Class Is More Than Just Brick and Mortar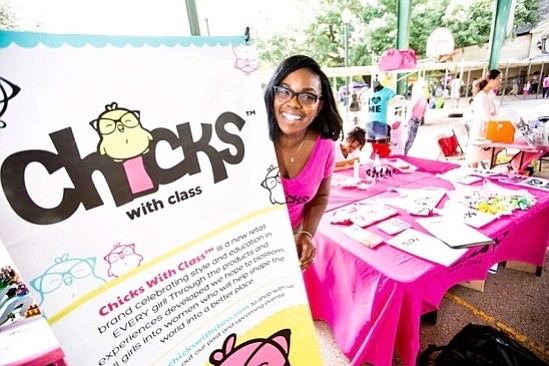 I think it is safe to say that we have so many issues going on in the world that we can rarely focus on just one. There's food shortages, illness, old age, death, terrorism, political unrest, and more that challenges humans on a daily basis. Because of this our youth, our future, can get lost in the turmoil. Adults are "adulting," or at least trying to, and it becomes harder and harder to raise healthy/mentally healthy children. This is why businesses like Chicks with Class are so important.
Margo Jordan-Baines knows all too well what's its like to grow in a world full of negativity. Growing up, she often prayed for a positive and effective way to impact youth. In college, God gave her the answer with Chicks With Class. Originally, Jordan-Baines targeted her peers but then realize the best impact could be made if she reached back to the younger generation. Her thoughts were to infused positivity in young girls so they could grow into positive women. Thus the mission for Chicks With Class was born - empower, educate, and entertain girls all over the world.
Chicks With Class is a girls' empowerment company that celebrates style and education. The company provides fun, educational, and motivating opportunities for young girls to grow. Predominately geared towards young girls, Chicks with Class is helping preteens make that awkward transition to teens beautifully and molding teens into intelligent, responsible women.
"I created Chicks With Class to allow young girls to see their beauty from within. I have always been passionate about giving girls an outlet to embrace their beauty and feel empowered," said Margo Baines-Jordan, Chicks With Class Owner.
Chicks With Class started small hosting a variety of engaging pre-teen/teen brunches and workshops and coupling that with an array of mobile spa services for young girls between the ages of 9-18 with endless opportunities to prepare teens for their future. Now the mobile business is getting some solid foundation by becoming a brick and mortar establishment officially opening Houston's first pre-teen/teen day spa. Young girls will now have a stationary place of their own to come together and talk about body image, fears, trials, and accomplishments. The spot will also serve as a place to schedule Girls' Day Out, Pampering Parties, Etiquette Sessions, Sunday Fundays, or host an event.
Baines-Jordan and her team pulled back the curtain for the grand opening of Chicks With Class in a major way. The event was hosted by Disney Star Trinitee Stokes of K.C. Undercover and also featured actress and author Alena Pitts, author and entrepreneur Lauren Galley, H2, Rising Stars, Royal Duchess Step Team, and Sisters of Unity Step Team. Guests also enjoyed brunch while meeting pre-teens/teens who have conquered their fears while becoming a Chick With Class!
Girls need a place where they can bond, get away from the dog eat dog world in which many women of today's society live. They need to see the positive aspect of being a woman. We hear/see so much negativity going on in the world, our young girls need to see the positive. They need to see the positive in themselves. Beauty need not be defined by society standards; they need to see beauty individuality. Chicks With Class does all that and more for today's girls. Check them out at Chickswithclass.com