Meet The Man Who Might Determine Your Health Care Coverage
Majority Leader Mitch McConnell's leadership will be necessary to get a health care bill through Congress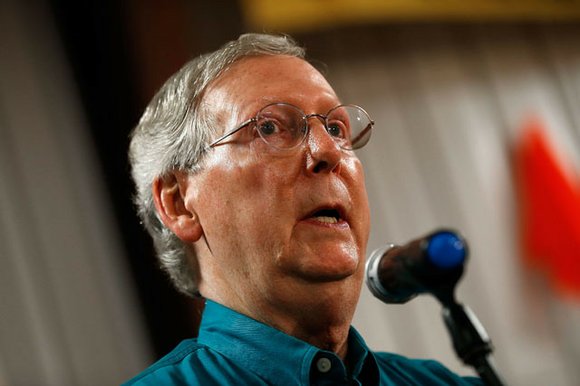 WASHINGTON (CNN) -- A few hours after the House finally passed a bill to repeal and replace the Affordable Care Act, Mitch McConnell walked silently and expressionless from his office to a waiting black SUV outside the Capitol. Only his police detail and an aide were with him as he left the quiet building and drove off.
The solitary scene was a sharp contrast from the crowded and boisterous victory rally President Donald Trump threw for relieved House Republicans in the White House Rose Garden after the vote. But it may capture the low-key, no-frills style of McConnell, the determined Senate majority leader from Kentucky, that could serve him well as he takes on one of the most important legislative challenges of his career.
All eyes now turn to McConnell and his fellow Senate Republicans to see if they can accomplish what the House GOP did through fits and starts: Pull together an ideologically diverse conference and secure enough votes to get rid of Obamacare, a promise they've made repeatedly but failed to keep since President Barack Obama's health care law passed in 2010.
"The Senate is looking forward to getting it," Trump said after the House vote. "Mitch McConnell knows how to do things, and I think we're going to have some really great health care for a long time."
McConnell, who has led the Senate Republicans for a decade, may be one of the most disciplined politicians in America and therefore uniquely suited for the task. He will need all the self-control and detachment he can muster to steer the complex health bill through the competing demands -- and passions -- of the various factions of his caucus while also writing effective legislation that could set the nation's health policy for a generation.
McConnell's reputation is that of the ultimate Washington insider, a talented legislative tactician who utilizes the dense Senate rules to achieve his goals. Those skills will be on display as he works to maximize what can pass using the Senate's complicated budget reconciliation process, which will allow Republicans to pass a repeal without any Democratic votes.
His working knowledge of the specialized ways of Washington, gained through 30 years in the Senate, make him someone who Trump, the outsider, needs to lean on to get the Obamacare repeal and other legislation passed. To date, despite GOP control of both chambers of Congress and the White House, Republicans have yet to score any major legislative accomplishments. That adds pressure on McConnell to get health care across the finish line.
That process will begin in about two weeks after the Congressional Budget Office delivers its official score of the House bill, an estimate of what it will cost taxpayers and how many people will gain or lose health insurance because of it. The CBO said the original House measure in March could mean 24 million fewer people are insured by 2026 than under Obamacare.
After that, McConnell will square off against Democrats in a critical behind-the-scenes debate -- known in colorful Senate parlance as a "Byrd Bath" -- to determine which parts of the House bill meet the Senate's strict reconciliation rules and can stay in the bill and which parts must be cast aside.