Houston Black Heritage Festival: Not Just a Festival, It's An Experience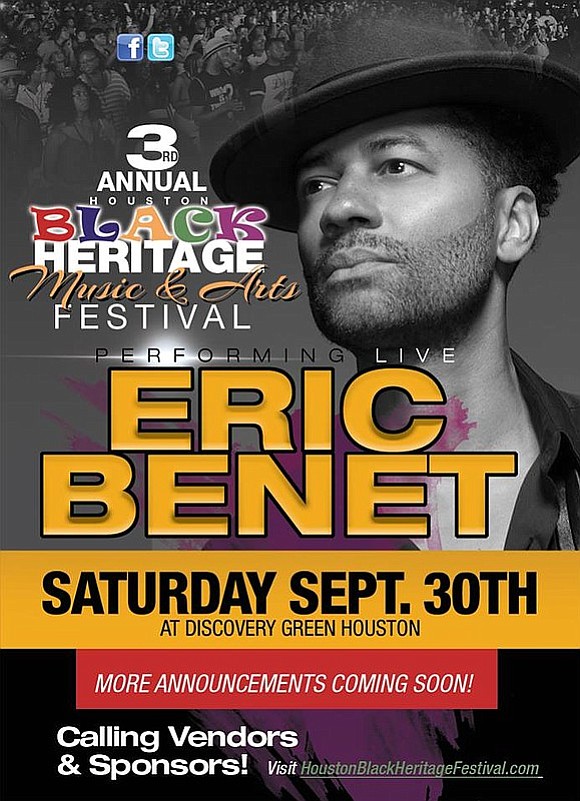 In less than eight days, Discovery Green will be flooded with music and art lovers for the 3rd Annual Houston Black Heritage Music and Arts Festival. Founded by Richard Andrews, the all-day cultural event promotes diversity and cultural sensitivity.
Over 10k African-Americans, Afro-Caribbeans, Africans from the Continent, Afro-Latinos & Hispanics, multi-cultural guests will be swaying and singing with featured performers Eric Benét, Tamia, Ella Varner, and others. Benét will perform a star-studded "Legends Tribute". And that's not all. Event organizers, The Foundation for Black Heritage and Culture, have planned a jammed packed day full of speakers, exhibits, musicians, artists, poets, and craftspeople locally and nationally within themed villages centered around empowerment, health, cultural arts, and more. The festival promotes diversity and cultural solidarity. This one-day experience also offers both children and adults with an opportunity to increase their awareness of African and African-American culture and history. This event is ideal for all ages!
In true Black Heritage essence, this year's festival will pay homage to Houston's legendary Black Heritage History-Makers that have made a profound impact in various industries. A Special black business panel will also engage, ignite and empower crowd attendees on black wealth, nonprofits, and entrepreneurs. Award-winning marketer Velma Trayham, author of "When God Says Go!" will be a featured panelist.
Harris County Public Health has teamed up to sponsor the Health Village once again. Last year attendees had access to dental screens, diabetes, hepatitis, Zica virus and much more.
The Interactive Youth Zone will feature Houston rapper Young Lyric of Lifetime TV's hit show "The Rap Game", high school band competition with bands from Westbury and Austin High School, step competition from local Houston high schools, and other fun activities.
For the Festival's founder, Richard Andrews, a proud alumnus of Texas Southern University (TSU), the awards are stacking up. Over the past several years receiving many Congressional Recognitions from Congresswoman Sheila Jackson Lee for giving back, including an 18-wheeler full of backpacks for kids, feeding the children project, and many other acts of service. Also last year, Richard received the Darryl King Paving the Way Award from The World Youth Foundation. He's a very tenacious non-profit leader and has toppled steep barriers over the past three years to transform his vision into a reality after investing personal funds to launch the event. Today, the Houston visionary is alive and well as this community event will directly address some of Houston's needs: fostering cultural solidarity; positive ethnic identity for families; and support for educational excellence among HBCU college-bound youth. A portion of the proceeds raised will benefit local TSU students.
"My mission in life is to give back, and what better way to give back by supporting local HBCU students who are striving for excellence right here at in Houston!" Richard states. With over 15,000 attendees over the past two years, last year's Black Heritage Festival attendees witnessed the City of Houston present and proclaim "Black Heritage Day", signed by Mayor Sylvester Turner. City Council Member Larry Green of District K is a huge supporter and sponsor of the festival.
This festival has gained some incredible partners to assist in bringing togetherness within our community. Community partners consist of Houston Style Magazine, The Principal Partnering Group LLC, Rodney Jones Law Firm, Houston TV, KTSU, The Forward Times and the Amark, to name a few. With the assistance of these amazing partners, the Festival will continue to impact families.
Make plans for this family friendly event, September 30th, 2017! Tickets are still available via ExtremeTix.com. Not Just a Festival. It's an experience! For more information, visit HoustonBlackHeritageFestival.com.