Eric Benet Headlines the 2017 Black Heritage Fest
"Not just a festival, It's an Experience"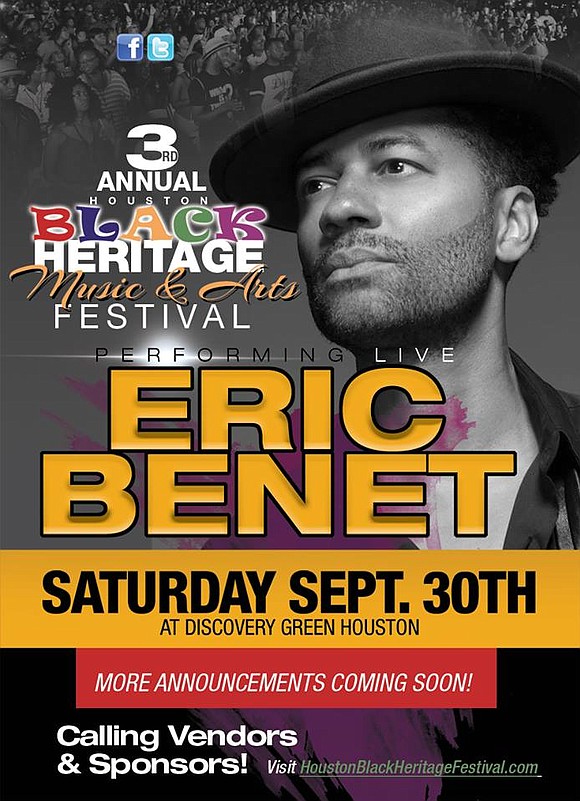 Eric Benét and many others set to rip the stage at the third annual Black Heritage Festival. Center stage in the nation's fourth largest black populated city, Houston Texas. Over 10k African-Americans, Afro-Caribbeans, Africans from the Continent, Afro Latinos & Hispanics, multi-cultural guest flock to Houston's iconic Discovery Green, Saturday September 30th 2017.
Continued support from media partners, including, KTSU Choice 90.9 FM, and publications, such as the Style Magazine, Houston Defender and the Houston Forward Times.
From 2pm-10pm, guest will be swooned by the award-winning R&B artist Eric Benét, who will perform a star studded "Legends Tribute". Guest will also enjoy multi-cultural festivities planted within themed Villages centered around empowerment, health, cultural Arts, and more. In true Black Heritage essence the this year's festival will pay homage to Houston's legendary Black Heritage History-Makers that have made a profound impact in various industries. A Special black business panel will also engage, ignite and empower crowd attendees on black wealth, nonprofits and entrepreneurs. Panelist include awards winning publicist Velma Trayham, and many more.
For the Festival's founder, Richard Andrews a proud alumni of Texas Southern University, the awards are stacking up. Over the past several years receiving many Congressional Recognition from Congresswoman Lee for giving back, including 18 wheeler back-packs for kids, feed the children project, and many other recognitions. Also last year, Richard was received the Darryl King Paving The Way award from The World Youth Foundation. He's a very tenacious non-profit leader, and has toppled steep barriers over the past three years to transform his vision into a reality after investing personal funds to launch the event. Today, the Houston visionary is alive and well as this community event will directly address some of Houston's needs: fostering cultural solidarity; positive ethnic identity for families; and support for educational excellence among HBCU college- bound youth. A portion of the proceeds raised will benefit local TSU students. "My mission is life is to give back and what better way to give than to support local HBCU students who are striving for excellence right here at home!" Richard states With over 15,000 attendees over the past two years and last year's Black Heritage Festival attendees, witnessed the City of Houston present and proclaim "Black Heritage Day", signed by Mayor Sylvester Turner. City Council Member Larry Green of District K is a huge supporter and Sponsor of the festival.

Make plans for this family friendly event, September 30th, 2017! This event is made possible by the registered 501(c)3 non-profit, Foundation for Black Culture & Heritage and offers something interactive and memorable for all ages. Tickets go on sale July 1st, 2017 via ExtremeTix.com. Save the date September 30th, 2017 - The Black Heritage Festival. Not Just a Festival. Its an experience!
For more details about sponsorship, entertainment,and exhibitor booths, please contact Richard Andrews info@houstonblackheritagefest.com or call 832-651-8135.