NFL Players, Owners Come Together to Denounce Trump's Anti-protest Rant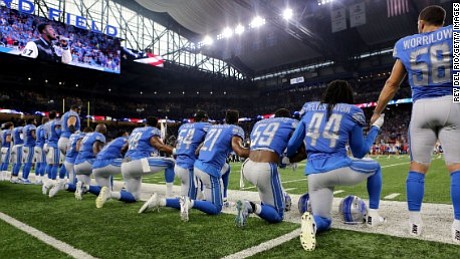 Away from the world of sport, legendary musician Stevie Wonder took both knees at a New York music festival, seemingly showing solidarity with the NFL players.
"Tonight, I'm taking a knee for America; but not just one knee, I'm taking both knees," he said on stage Saturday before his performance at the Global Citizens Festival.
Race-tinged?
While many have noted that Trump's comments were aimed at predominantly black players who took up Kaepernick's clarion call -- the former Niner is himself mixed-race -- and the initial protest focused what he deemed injustices against black men and minorities, Trump insisted that his criticism had "nothing to do with race."
"I've never said anything about race. This has nothing to do with race or anything else. This has to do with respect for our country and respect for our flag," Trump said.
A former football team owner himself (with the doomed USFL in the 1980s) and reportedly an aspirant NFL owner just a few years ago, Trump's attempts to divide the league owners from their players seems to have had the opposite effect.
"What you just saw was a variety of responses with the theme of unity," an NFL front office source told CNN. "All across the league, owners, coaches and players came together to decide what was best for them."
The source added, "If Trump thought he could divide the NFL, he was wrong."
Robert Kraft -- Trump's friend and owner of the New England Patriots who gave him a Super Bowl ring -- meanwhile said he was "deeply disappointed" by the President's tone.
Trump responds to NFL protests: 'Standing with locked arms is good, kneeling is not acceptable'
Year-old protest
NFL players began to kneel during the national anthem last year, following Kaepernick's lead, who initially sat, and then evolved his protest to kneel during "The Star-Spangled Banner" before kickoff, sparking both support and backlash.
"I am not going to stand up to show pride in a flag for a country that oppresses black people and people of color," Kaepernick, who is currently without a team, told NFL Media last August.
"To me, this is bigger than football and it would be selfish on my part to look the other way. There are bodies in the street and people getting paid leave and getting away with murder."
Divided
Fans at Soldier Field, where the Bears took on the Steelers, fans voiced their disapproval of those kneeling in protest.
"(It's a) show of disrespect, not only for those who have fought and died for our country but for those serving," football fan Derek Zumbahlem told CNN's Ryan Young. "I disagree with it."
"I think personally that they should stand up for the national anthem," Amit Sud, a fan who wore a Bears jersey, said. "I do respect the players rights to take the knee. However, Soldier Field has history."
Trump responded to Sunday's protests via Twitter, expressing approval for those who locked arms, but not those who knelt.