Vivica A. Fox is Hotter Than Ever, and Disarmingly Real
Kind, conscientious, courageous and refreshingly candid, Ms. Vivica A. Fox has proven that as Hollywood careers go, second acts are often the sweetest. The multi-hyphenate actress-director- beauty entrepreneur-author is embracing life and not looking back, except to pull from her well of wisdom for her new memoir, Every Day I'm Hustling. And if you know Vivica like I got to know her during our conversation, you'd think the book's title quite fitting. She enjoys hard work and has no plans to slow down.
Born Vivica Anjanetta Fox on the outskirts of Indianapolis, she went by Angie Fox, one of four siblings being raised by divorced mother who worked overtime to provide for her children. Her childhood home was hectic but loving and provided fertile ground for Vivica to aspire for things grander than her midwestern upbringing.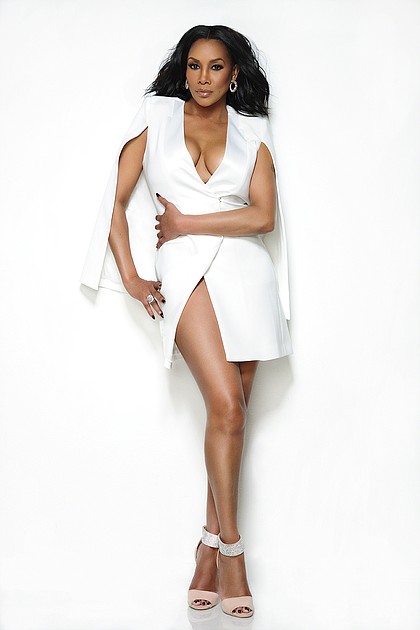 After high school, she made her way to Southern California to attend college, all the while seeking out opportunities in Los Angeles to model and act wherever she could. It was in LA that Angie became Vivica A. Fox. She worked her way through the ranks on sitcoms and daytime soaps, and in 1996 got her breakthrough role opposite Will Smith in the classic blockbuster, Independence Day. Next came a string of fan favorites including Set It Off, Soul Food, Two Can Play That Game, Kill Bill Volume I and II, and a string of subsequent roles in film and television, including Larry David's sharp-witted houseguest, Loretta Black, on Curb Your Enthusiasm and Skye in the campy Sharknado franchise. Her eclectic career has kept her on the move for nearly three decades.
In 2016, Vivica joined the cast of the smash hit television series, Empire, playing conservative suburbanite Candace, Cookie Lyon's (Taraji P. Henson) older sister and character foil.
During our interview we covered everything from movie stardom and maternal instincts to social media drama, setting boundaries and finding love.
Allison Kugel: When are you Angie and when are you Vivica? When do you take off the Vivica and become Angie from Indianapolis ?
Vivica A. Fox: Well first off, that's Angie Fox from 38th and Emerson in Indianapolis (laughs)! I'm Vivica Fox when I hit that red carpet and I'm ready to slay the game. That's what I do. But I love that I have in my life, and in my journey, learned when to be Angie Fox. And that's mainly when I'm with my family, time off, hanging out with my godchildren, having my Me Time and learning to take Me Time. That's when I'm no makeup, baseball cap, chilling and blending in.
Allison Kugel: Do you prefer yourself that way?
Vivica A. Fox: Oh my gosh! To be honest with you, the older I've gotten, the more I prefer it. I work so much; I've been so blessed and so busy lately that I enjoy when I can have that Me Time. In fact, today I don't have to be on. That's what I really love about being with my godchildren. When they see me, I'm just G.G. or G-ma. G.G. stands for Gorgeous Godmother. G-ma, I don't know where they got that one from, but I have five godchildren. Two of them call me G-ma and the other ones call me G.G. They like hanging with me. Not the drama or the glamour, they just want me.