Nicole "Snooki" Polizzi: Back to the Beach with Jersey Shore Reboot
Same Jersey Shore cast (sans ex-castmate Sammi Giancola), same nickname… new outlook on life. Nicole "Snooki" Polizzi started off our conversation by letting me know that she prefers to be called Nicole. The thirty-year-old married mom of Lorenzo, 5, and Giovanna, 3, was also quick to clarify that a duality still exists in her life: subdued suburban mom by day, Jersey Shore's outrageously funny Snooki by night. Think Clark Kent versus Superman. Which of Nicole's personas is the superhero and which is the mere mortal? We'll let you decide.
During her six-year Jersey Shore hiatus, Nicole Polizzi, has transformed her brand, starring alongside Jenni "JWoww" Farley on the MTV spin-off Snooki and JWoww and on Go90 Network's, Moms with Attitude. Her lifestyle website, TheSnookiShop.com, sells everything from bikinis to cocktail dresses. Nicole's podcast, It's Happening with Snooki & Joey, is a look inside her everyday life, and her social media platforms are all about #momlife and #fitnessgoals.
The Seaside Heights crew is back with their MTV reboot, Jersey Shore Family Vacation. The now thirty-somethings are navigating roommate status and being party pals during this new stage of their lives, as older, successful media personalities and parents. According to Nicole, the cast manages to deliver all of the crazy antics you remember, and as she puts it, there's no need to re-hash old drama when there is so much new fodder that takes place this season on the shores of Miami Beach.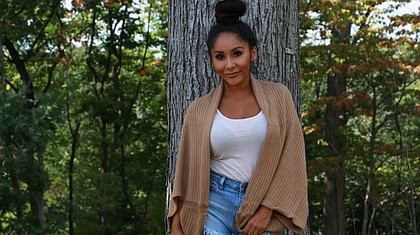 Allison Kugel: When you look at old footage from the early seasons of Jersey Shore, do you recognize that girl?
Nicole "Snooki" Polizzi: It does feel like a lifetime ago. But if I were to say, "that's not me," I'd be lying. You never really lose your personality. Sometimes I am goofy. I like to have fun and I'm outgoing. I'm just not going out to the club and finding men, and I'm wearing underwear now (laughs). Just like anyone else, you grow up, but at the same time you don't lose yourself.
Allison Kugel: In an interview your dad gave years back, he said you had always wanted to be famous and that he figured if he gave you his blessing to do Jersey Shore, you would get it out of your system.
Nicole "Snooki" Polizzi: It wasn't necessarily to be famous. I always wanted to be on reality [television]. I was a huge fan of The Real World and Road Rules when I was growing up. I always wanted to be on a show like that, just to experience it, and then go back to my job and have a normal life. I never necessarily wanted to be famous. It was more about doing reality because I was such a reality junkie; I was obsessed with it.
Allison Kugel: Where would you be today, in life, in love, in career, had Jersey Shore never happened?
Nicole "Snooki" Polizzi: I probably would still be living in upstate New York by my mom. I was going to school to be a Vet Tech, so I'd probably be working in an animal hospital somewhere. But I honestly don't care. I don't even want to think about that, because I wouldn't have my husband and I wouldn't have my kids. It would be a totally different life that I don't want to think about. The fact that I met my husband during the show is everything. Everything happens for a reason.