AboutThatCar.com 2018 Toyota Prius C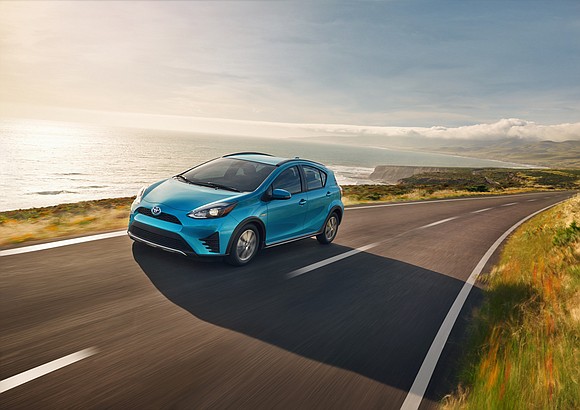 CHICAGO -- I got a 2018 Toyota Prius C on short notice to come here. The point is that I had to learn this car literally on the fly, or in this case on the road.
It was roughly 15 minutes after I got the car that I was on I-96 W headed to I-94 W and then here. I threw a garment bag and a shoulder bag onto the back seat and I was on the road.
My test car was orange, like flaming orange if there is such a thing. But that was the loudest thing about it. It was a hybrid and it was really quiet. The only time I heard the engine was when the car was on cruise control and trying to maintain 75 mph getting up and over slight rises in Interstate 94.
That was the first lesson. Acceleration was not a strong suit of the Prius C. Powered by at 1.5-liter four-cylinder engine that was mated to a continuously variable transmission (CVT); this car was not bursting with speed. Add the hybrid system and the net output was 99 horsepower and 82 pound-feet of torque. It had an EPA rating of 48 mpg in the city, 46 mpg on the highway and 43 mpg combined.
The car had a top speed of 105 mph. Thus, interstate speeds, not the posted one, but the real ones I was operating at put this Prius within range of its top speed. And from time to time, I could hear the engine.
Still, it could cruise at those speeds without much of a problem but getting to Interstate speed took some time. But once there the ride was sturdy and solid.
I think the extra weight of the hybrid battery and the regenerative brakes lowered the center of gravity a bit and steadied the ride. Not once did I feel the subcompact Prius C give way to the wind and it was blustery at times during the four-hour drive from Detroit. The C stands for City but the car could handle the Interstate as long as you've got some patience.
The Prius C hybrid system integrates a gasoline engine, an electric motor within a continuously variable transaxle and a nickel-metal hydride battery. A power control unit (inverter), a DC-DC converter, and a step-up converter governed the application of gasoline engine and electric power depending on driving demands and selected drive mode.
At first, I thought the Prius C was a little bit sluggish. But then I discovered that it was in Eco mode. I put it in normal mode and felt some pep. There was also an EV mode that I didn't bother trying.
The C model in the Prius four-car lineup is the smallest vehicle, it is a subcompact. But it was pretty spacious inside. And before I go farther, it was a four-door hatchback. The touchscreen infotainment center was centered in the face of the dash and there was a readout pod for the hybrid system atop the dash.
This Prius C was chock full of equipment. It had a moonroof, rearview camera, lane assist, distance assist, a navigation system, satellite radio; and it even had heated front seats.
But I was disappointed that there was no lane change signal and the voice recognition on the voice control system wasn't that good. At the time I was fighting bronchitis but the system could never delineate who I was telling it to call.
Still, this was a sharp hybrid. I don't know if would want to take it on the highway on a regular basis. However, it could get the job done and economically too.
I had enough fuel left when I arrived here that I ran a few errands that evening and did what I came to do the next day. The Prius C took 7.6 gallons of its 9.5 gallon fuel tank and I had gone roughly 300 miles. That wasn't bad at all. A gauge in the car said I had averaged almost 45 mpg.
And the $26,479 sticker as tested seemed pretty reasonable to me.
Frank S. Washington is editor of AboutThatCar.com