Comey's Trumpy streak is showing during book blitz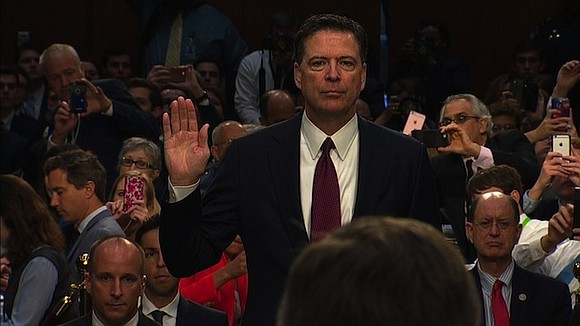 Analysis by Gregory Krieg, CNN
(CNN) -- In former FBI director James Comey's telling, he and President Donald Trump are perfect foils. He recalls their White House meetings in tense, cinematic terms -- the upright G-man, bound to "a higher loyalty," facing off with a glorified mafia boss in ruthless pursuit of fealty and favors.
"He had impressively coifed hair, it looks to be all his," Comey recounted in his Sunday night interview, before commenting on Trump's "slightly orange" visage, the length of his tie ("too long") and hand size ("average"). The President asked for loyalty and, at a subsequent sitdown, expressed his hope that Comey would go easy on former national security adviser Michael Flynn, who has since pleaded guilty to lying to the FBI.
For someone who says he never wanted to write a memoir, Comey exhibits rare talent as a storyteller. His book is short and, whether one finds it compelling, self-serving or pretentious -- those, with some overlap, seem to be the most popular takeaways -- it never drags. The descriptions of his exchanges with Trump, as first documented in contemporaneous memos and then leaked to the press, are consistent. But the sum effect can be oddly unsatisfying. Comey's observations, hints and innuendo never quite pull together to form a clear picture of the President or the precise extent of his alleged misconduct.
Instead, we get a lot of: "It's possible."
Comey fell back on the phrase repeatedly during his conversation with ABC's George Stephanopoulos.
When asked if he believed Trump, who in Comey's account tripped over his tie denying those most salacious details of the Steele dossier, Comey said, "It's possible, but I don't know."
Asked if he thought "the Russians have something on Donald Trump," Comey first responded: "I think it's possible. I don't know. These are more words I never thought I'd utter about a president of the United States, but it's possible."
Pressed by Stephanopoulos, he'd utter them again a few seconds later: "It always struck me and still strikes me as unlikely and I woulda been able to say with high confidence about any other president I dealt with, but I can't. It's possible."
Comey's flair for the dramatic has already been discussed and examined at some length. Trump once derided him as a "showboat," which -- even allowing for the source's obvious bad faith -- is hard to deny. Comey has conceded that his "ego" has a habit of leading him astray. (His relative openness to that sort of introspection sets him apart from the President.)
The unpredictability, talent for stringing out a juicy story, and frequent diversions from political "norms" are the most common threads between the two men. Again, Comey seems to have more care for how his arguments and actions land, but there is a recurring sense in his recollections that, in any given moment, he has a special mandate to act.