D.L. Hughley Shoots Straight on Police, Mark Fuhrman and Racial Profiling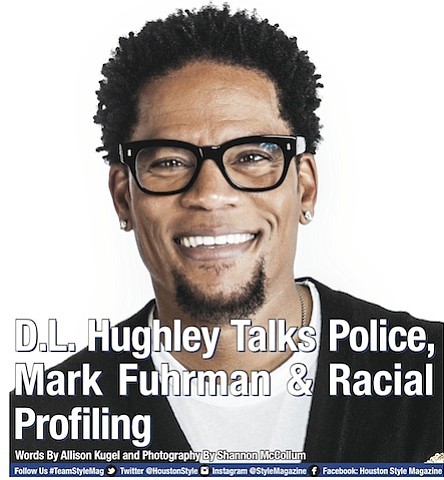 D.L. Hughley: That we're going to do the best we can to make sure. I think that America's never seen a person of color that lost their life where the powers-that-be were compelled to do something about it; where they were actually moved to action. Whether it was Emmett Till or Trayvon Martin, I think they have a certain kind of distance when it comes to black people dying. The first thing they'll say is, "Well, if you wouldn't have done this?" or "You shouldn't have done that." The impetus for me writing this book was going on Megyn Kelly's show (Megyn Kelly TODAY). I went on Megyn Kelly's show and we were going to talk about the police and policing, and she had Mark Fuhrman (disgraced detective in the 1995 O.J. Simpson murder trial) on the same show. She didn't tell me he was going to be on, and he went on before me. They had Mark Fuhrman on to talk about policing. He got fired for lying. He lied so much that he got a murderer off. He got O.J. off! And this is how we start the conversation about policing, and about good police versus bad police? Even other police will tell you that Mark Fuhrman was a bad [cop]. That's how they decided to start the conversation that day. That's when I knew I would write this book.
Allison Kugel: You've discussed in great detail, your previous affiliation as a gang member with the Bloods in Los Angeles. What was the life lesson from that experience for you? What was the major takeaway?
D.L. Hughley: The takeaway was a level of independence and compassion. One of the things that I always felt bad about when I was growing up was that even when I was in that situation, I knew I wasn't of that situation. I knew that I didn't belong there. I knew I would do something else. It taught me to have compassion for people who, for them, that was their natural experience. While I knew that I wasn't born for that, that [gang] experience was organic to a lot of people. So, it was knowing that I was in that situation and not of it, and to have compassion for the guys who didn't see any other way to live. When I was eighteen or nineteen years old, stuff got so bad, I tried to get into the Los Angeles Police Academy. I just wanted things to be different. I was reaching at anything to not give into the frustration that was all around me.
Allison Kugel: Do you fear that this book is simply going to preach to the choir rather than reaching a wider demographic of people?
D.L. Hughley: I think that people who have already made up their mind before a question is even asked, they have a certain perspective. But a lot of the book is based on statistics and facts, things that have happened and their outcome. There are always a lot of white people who want to tell you what they would do if they were black, but they can only tell you what they would do if they were black from their current perspective (laughs). They can't tell you what it's like. I'm sure that a lot of people who have had positive experiences with the police can't believe that the police that pull them over are the same policemen that interact with me. They can't believe it because it's not their experience. But my hope is that people can at least look at this book and see that things aren't the same as their own experience. You don't have to have that experience to know those things do exist.