Putin says he speaks regularly to Trump, isn't trying to divide Europe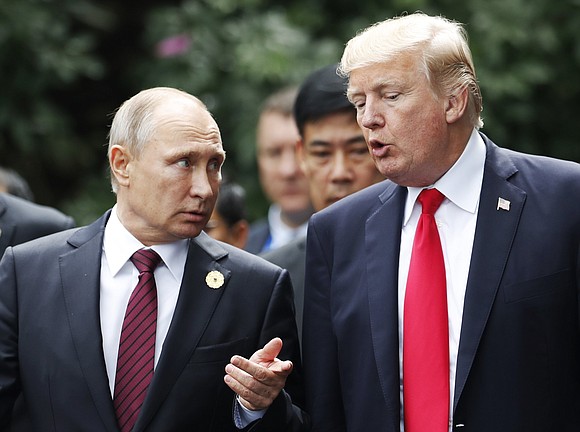 By Schams Elwazer, Kevin Liptak and Judith Vonberg, CNN
(CNN) -- Russian President Vladimir Putin said he and US President Donald Trump "regularly talk over the phone" and that the pair work well together in the fight against international terrorism, but suggested a formal summit between the two was not imminent despite mounting speculation.
Speaking to Austrian television channel ORF ahead of a visit to Vienna on Tuesday, Putin said he "fully agreed" with Trump on the possibility that a new arms race between the countries could break out, and hoped the two leaders could work together to prevent it.
Putin said that in a recent phone call, "Donald said he was worried about the possibility of a new arms race."
"I fully agree with him -- however, to prevent a possible arms [race], we should think about it, we should do something about it, give corresponding instructions to our Foreign Ministry and the US State Department," Putin added.
When asked by journalist Armin Wolf why there had been no US-Russia bilateral summit since Trump became president, Putin said he had met Trump more than once at international events but signaled that there were no immediate plans for a formal meeting.
"I think that the possibility of these meetings depends to a large extent on the internal political situation in the United States," Putin said. "The congressional election campaign is getting under way and then there will be the next presidential election, and the President of the United States is coming under attack over various matters. I think this is the main reason."
In April, the White House confirmed that Trump and Putin discussed the possibility of meeting at the White House "in the 'not-too-distant-future'" during a phone call the previous month.
Barack Obama and George H.W. Bush both met formally with the Russian President within six months of taking office, with Obama traveling to the Kremlin in July 2009 to meet then-President Dmitry Medvedev and Putin, who was prime minister at the time.
Trump and Putin have spoken by phone eight times, according to readouts distributed by the White House. They have met in person twice -- once at a formal bilateral meeting in Germany and once on the sidelines of a leaders' summit in Vietnam.
The pace of Trump-Putin calls is roughly equivalent to the number of phone calls Obama held with Putin in his final two years in office. They spoke nine times in 2015 and 2016.
'Not our aim to divide Europe'
Putin's visit to Austria -- his first foreign trip since his re-election in March -- is seen by some as a provocative move.
Kurz leads a right-wing coalition formed of his own conservative People's Party and the far-right Freedom Party, and although the Chancellor has spoken of his support for the European Union, he and his government oppose further EU political and economic integration and are seen as a potential threat to liberal European values.
Speaking alongside Putin following their meeting in Vienna Tuesday, Kurz said he hoped the EU would engage in intense dialogue with Russia and "gradually reduce sanctions."