Sisterhood & Service: AKAs Takeover Houston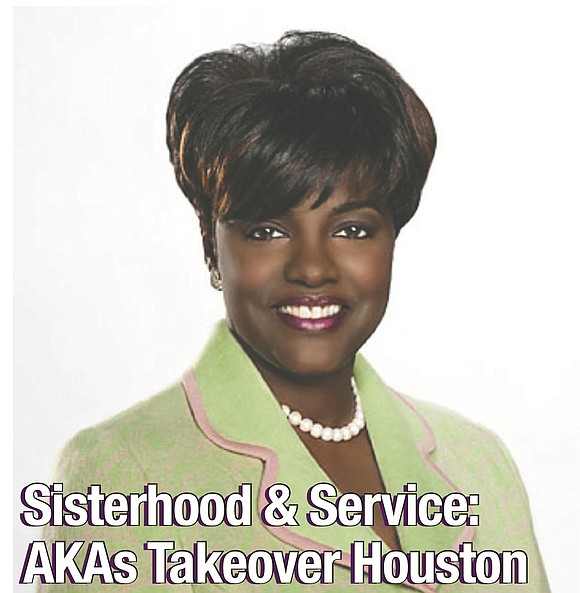 Either directly or indirectly a lady of Alpha Kappa Alpha Sorority, Incorporated has had an effect on your life. Maybe she ensured your child could afford college by awarding them a scholarship. Or she helped to plant a garden in your community to answer the need of food deserts in the area. Perhaps you saw a group of them building a house for a deserving family. One might have encouraged you to join a letter-writing campaign to exercise your political voice for policy changes. Or your company partnered with them to provide essential supplies to people internationally. For more than 110 years, the ladies of Alpha Kappa Alpha Sorority, Incorporated (AKA) have worked to serve all mankind here at home and far away abroad.
Ninety of those years of service have been executed right here in Houston by local members of the fourteen graduate and six undergraduate chapters of Alpha Kappa Alpha Sorority, Inc. This year members have ramped up their service in Houston with a series of projects dubbed "29 Moments of Service" ahead of their biennial convention to be hosted in Houston on July 6-12, 2018.
Houston, get ready for the wave of pink and green that is coming. Ladies from all over the world will descend upon Houston for a weeklong conference that will engage them in acts of service, handling business, and bonding as sisters. Up to this point, members have completed 16 of 29 service projects impacting Houston. The other 13 projects will be completed during the conference. Projects have ranged from park bench dedications and donations to HBCUs to creating a pop up food pantry. International President of AKA, Dorothy Buckhanan Wilson, does not necessarily have a favorite project as she thinks all are wonderful and needed but she does have two that touches her. The first being the two homes sorors built in partnership with Habitat for Humanity. Dedicated to two prominent Houston residents and former international presidents of the sorority, Mattelia B. Grays, and Faye B. Bryant, the homes will be given to needy families. Her second project is the Think HBCU College Expo. Being a two-time HBCU graduate, Buckhanan Wilson understands the importance of a college education and wants to do her part to make sure every child wanting to go to college has the information and means to do so. "Each of the 29 moments are projects and programs that are much needed. We are doing projects that will leave a lasting impact," said Buckhanan Wilson.
Every time a convention comes to a city, Alpha Kappa Alpha wants their presence to be felt long after the convention is over. Houston is already benefitting from the sorority's 29 Moments of Service that will also help infuse $1 million into the city. Another estimated $50 million will be left by AKAs once they are in Houston. Considering that AKAs will occupy most of the hotels in downtown and Galleria area, will eat out at city's restaurants two to three times daily, and not to mention the shopping that will happen, $50 million is a modest estimate. AKAs love to spend money and have a great fondest for Houston.