LaTavia Roberson: The Naked Truth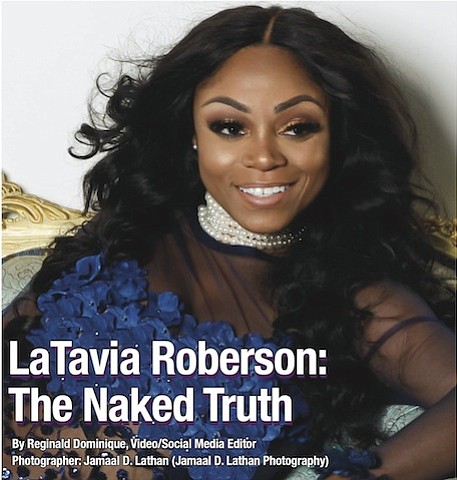 LaTavia Roberson is back like she never left and taking full control of her life while going full throttle! Known for selling over 25 million records with the international known girl group, Destiny's Child, this two-time Grammy award singer/songwriter brings much to the table than just her girl group image.
These days, Roberson has paved her own path from starring in numerous stage plays, becoming a main cast member for R&B Divas: Atlanta to struggling with addiction, sexual abuse, and her own depression.
The actress/singer sat down for an exclusive Houston Style one-on-one interview giving us a glimpse into what is new in her life with 'The Naked Truth!'
Reginald Dominique: 19 years ago! The sophomore record from Destiny's Child, "The Writings on the Wall" dropped! Tell me about LaTavia in the studio with Destiny's Child, writing that album. Did y'all really think 19 years later, people would still love that album the way they do today?
LaTavia Roberson: That's a loaded question because you never know how your success will play out. Especially with the success of Beyonce, Kelly, and LeToya, it makes people go back and listen; even people that weren't born when this album came out. Just to know there is still love and support and that I could be a part of something that is so wonderful just warms my heart.
RD: Let's talk about your latest adventure: The Naked Truth – your new radio show! Tell us how it came about.
LR: I love to talk to people and I love to be apart of what's going on in society and to get people's opinions. It is not only about what is factually written; people's opinions are valid too. And, I get to interact with my 'Lovers' (I don't call them fans, I call them my Lovers) because they're loved and supported me through the downs and ups. So, I really appreciate that guys and I wanted to make them apart of this as well.
RD: I know you have done a lot of charity work with nonprofit organizations like "Saving Our Daughters." How does that relate directly with you and what got you on that path?
LR: There had been a time in my life when I was really down and out and felt like I was at my rock bottom and lowest. At that point, I heard God say was to give back. I love working with the girls and helping them understand how they can turn a negative situation into a positive one.
RD: Let's talk about your daughter and how she has influenced you and helped mold you into the woman you are today.
LR: Getting pregnant with my daughter has been one of the best things that have happened in my life. This is the first time that I'm sharing this, but initially, they couldn't find her heartbeat. I was put on bed rest and she when came she changed my life. I have never known how to be so selfless; she has really changed my life.
RD: You faced a tough challenge in July 2016 when you suffered a miscarriage. If you feel comfortable, let us know a little more about that.
LR: I was 6 ½ months pregnant with my daughter Lauren and on July 4, 2016, I experienced a miscarriage. Ever since then, that experience has changed my life. People try to tell you how to grieve, but until the day I die, I'll never forget that day. I carry her around in a cross-urn necklace everywhere I go.

RD: We watched you on R&B Divas Reality TV – would you get back into it?
LR: I would. And I am. And the reason why I am getting back into reality TV is that I have gotten the green light to executive produce a couple of shows on my own! With me wanting to be behind the scenes for such a long time it's a blessing that I did not expect. I've always wanted to be my own boss while making a nice coin!
RD: As we wrap things up, I noticed online people are sometimes rude and negative towards to you. To those people who are trolling, what do you have to say to them?
LR: Its fine, people are going to be people. When I came on to social media after being gone out of the public eye for over 10 years it uses to really hurt my feelings. But, people are going to always have opinions. And you know what they say they're like and we all have one…so the most important thing is that I love myself, and when I look in the mirror I know what I see: I know who I am. I have a sense of family. I am a wonderful mother and I am a great person. I know that and I believe that. I'm living my best life!!
As you can see, life after Destiny's Child is great for LaTavia Roberson. Although she will always pay tribute to her humble beginnings, this actress, singer/songwriter and entrepreneur is far from being done with blessing us with her talents. Whether it is on your radio or TV screen, LaTavia Roberson is just getting started.
Keep up with LaTavia at: