Mayor Turner And 8 Texans Mayors Demand Mask Requirements From Gov. Abbott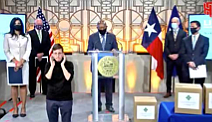 Over the past few days Houston has set records and not the good kind. The number of confirmed COVID-19 cases in the city has been on a rise. The Memorial Day weekend and numerous protests have blamed in the spike. Social distancing and wearing masks has proven to be the most efficient way of combating the coronavirus. Governor Greg Abbott confirmed he supports such precautions in a press conference held earlier this week.
"I make clear on a daily basis around the entire state of Texas that wearing masks is very important and local officials send that same message," said Gov. Abbott.
Apparently wearing masks is important but not as important as requiring Texans to wear masks. Gov. Abbott believes making that a requirement with punishments if violated is an infringement on peoples' liberty.
"So all of us have a collective responsibility to educate the public that wearing a mask is the best thing to do. Putting people in jail, however, is the wrong approach for this thing," commented Abbott.
Mayor Sylvester and eight other Texas mayors from Arlington, Austin, Dallas, El Paso, Fort Worth, Grand Prairie, Plano, and San Antonio are requesting for Gov. Abbott to allow cities, not states, mandate that residents being required to wear masks. Contrary to Vice President Mike Pence's opinion that a second wave of COVID-19 is "overblown," all mayors agree that a second wave is imminent but the spread of COVID-19 could be slowed down with the mandate. The mayors put their request in a formal letter to governor.
"This one step could prove to be the most effective way to prevent the transmission of this disease. Yet many people in many of our cities are still refusing to wear these face coverings even though these coverings are scientifically proven to help prevent the disease from spreading. We are writing to you for the authority to set rules and regulations on the use of face coverings in each of our cities. A one-size-fits-all approach is not the best option. We should trust local officials to make informed choices about health policy. And if mayors are given the opportunity to require face coverings, we believe our cities will be ready to help reduce the spread of this disease," wrote the mayors in their letter.
Judge Lina Hildago had issued a requirement for all those in Harris County to wear a mask but it was quickly shot down by Gov. Abbott.
"I'm talking about the county judge whether it be the county judge or elsewhere, they do have the ability to impose fines, not for facemasks, but for other strategies," commented Gov. Abbott.
He further went on to add that if business establishments would follow recommended standards the spread of COVID-19 would decrease.
In addition to the face masks mandate, the mayors are also concerned about the 3 phase reopening of Texas.