Unpacking the Issues
Green Bay leaves Houston still searching for answers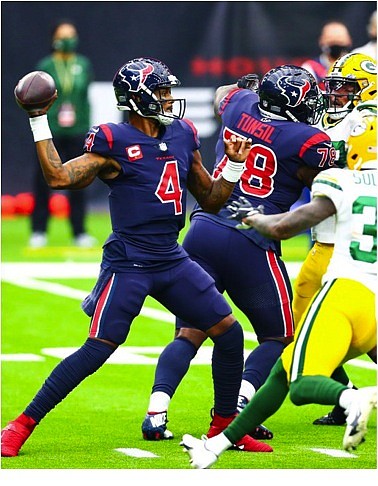 One thing you don't want to do as a football team is to try and find your identity as a football team against Aaron Rodgers and the Green Bay Packers. The Texans lost their sixth game of the season by a score of 35 – 20 leaving them with an enormous amount of questions to answer during the bye week having won only one game this season.
"I think we need to be more consistent," said interim head coach Romeo Crennel during his press conference on Monday. "Sometimes you see guys that make really good plays and then other times guys, they make plays that are not so good. What I would like to see is I would like to see this team become a more consistent team down in and down out and be able to play it throughout the game on a consistent level."
Consistency is the one thing that the Texans defense has not been this season. With only 15 sacks in seven games and five turnovers (1 interception- 4 fumbles), Houston's defense finds themselves on the field for long periods of times which allows the opponents to drive up and down the field causing fatigue to set in during that duration. Not being able to force quick three-and-outs and allowing sustain drives has led to a lot of frustration from Texans players including the most vocal leader in defensive end J.J. Watt.
"Frustrated," said Watt when asked about his emotions and demeanor after the loss to the Packers. "I'm angry. I mean, it sucks. I don't know. Yeah. I don't know what else I'm supposed to feel."
The leader on the offensive side of the ball shares Watt's frustration. Quarterback Deshaun Watson, who has played very well since the departure of former head coach and general manager Bill O'Brien, is doing everything he can to keep the Texans with a small glimmer of hope of making the playoffs this season. In the last four games Watson has thrown for 1,303 yards, 11 touchdowns and just two interceptions which came in one game against the Jacksonville Jaguars.
Yet, that doesn't stop the superstar quarterback from feeling the frustration of having a 1-6 record so far. He didn't hide his emotions when he was asked about how it felt as the leader of the team to have such a dismal record.
"S--t sucks, honestly," said Watson. This is new to me, so I'm going through it just like everyone else. This is my first time experiencing something like this, so I'm just learning on the fly, trying to stay positive, continue to lead the guys, continue to come to work each and every day and try to improve, and just trying to find ways to win, and just continue to play hard, do my job and not try to do too much and just kind of continue to do that.
Now the Texans will take the bye week to try and figure out how to get the ball rolling towards victories and maybe make a couple of moves in trades with some other teams. Either way they have to find a way to get this season back on track.
"You've got the first half of the season out of the way, you get a break and then you rev it up for the second half of the season," said head coach Romeo Crennel.