A Nature-Based Resort, Canyon of the Eagles Resort is your Get-A-Way from Reality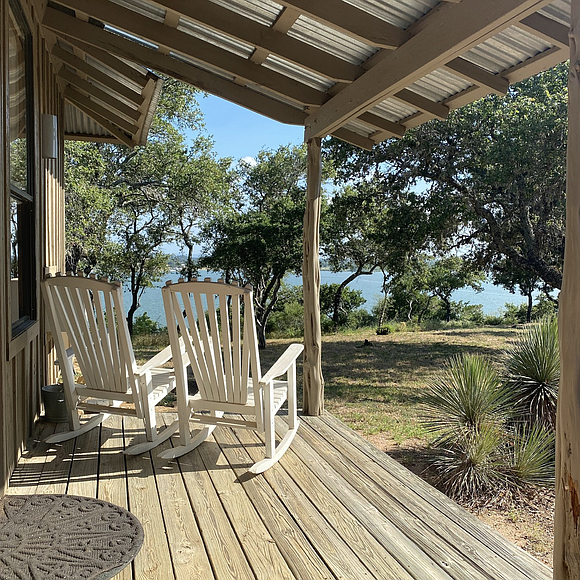 There are places you go for a vacation and places you go to get-a-way. Named after the bald eagles who nest in the area, Canyon of the Eagles is a year-round nature-based park and resort. Located in Burnet, TX - 1 hour northwest of Austin, 1.5 hours north of San Antonio, 2.5 hours south of Dallas and 3.5 hours west of Houston, Canyon of the Eagles offers a place where visitors can go to do everything or absolutely nothing.
There is much of nothing to distract you from the beauty of nature, as the property is an eco-lounge with only one tv on the property. But for diehards who are trying to escape the madness of the world, this 940-acre property with over 16-miles of groomed trails and 3-miles of private Lake Buchanan shoreline has a lot to keep you busy.
Canyon of the Eagles, A Calibre Resort
This unique full-service resort property will surely spark your interest. Opened in December 1999; the buildings were designed by the award-winning Lake Flato Architects of San Antonio and were patterned after 1920's hill country homes with porches and rocking chairs that allow guest to relax and taken in the scenery and Lake Buchanan. Lake Buchanan, the largest bodies of water within the chains of lakes of Central Texas is most definitely the crown the jewel, which is why it's such an asset to Canyon of the Eagles.
Canyon of the Eagles Nature Park and Resort is a pet-friendly resort that includes 61 spacious hill-top guest rooms in 16 buildings. Each room has a vast span of nature views that are available from each guestroom porch. The point of this resort is to not be distracted, so you will notice a minimalistic décor that reflects the natural surroundings with pine furnishings and stained cement floors.
Canyon of the Eagles Guest Room 📸: Canyon of the Eagles, A Calibre Resort
The Overlook Restaurant is where you will dine while spending your days and nights here. Imagine this; three walls of windows, a huge fireplace, and exterior deck that overlooks the Texas Hill County and Lake Buchanan. The setting is amazing for a casual or special dining occasion. The Overlook Restaurant (entrées $12-$32) has become the hottest reservation in town thanks to dishes such as the Canyon Chicken or the Ribeye Steak. The beautiful award-winning restaurant and central lodge area and lounge where the gorgeous sunsets can't be missed is the heart of this gem.
The Overlook Restaurant 📸: Reggie Dominique
With over 11,000 square feet of total indoor/outdoor meeting space, full-service catering and banquet services for up to 500+ persons, Canyon of the Eagles is an ideal place for gatherings especially family reunions. The resort's massive terrain offers a slew of options for guest including: 25 full-hookup RV sites, 33 spacious campsites, a large lakeside group campsite area for over 100 persons, a large lakeside building, dock, a gatehouse, an amphitheater, a lakeside labyrinth and Monarch Waystation, nature trails for any age and ability and even a helipad at park entry, just in case you want to make a grand entrance!
Eagle Eye Observatory is the resort's dark-sky location and is considered one of the best astronomic viewing sites in Texas. For me, it was definitely a wow moment. With the elevation at approximately 1,100 feet above sea level, it makes for the perfect location for guest to learn more about the night skies. The observatory is a sliding-roof design which can be opened to give gazers an entire view of the sky. It's truly remarkable and highly recommended. Canyon of the Eagles overnight guests have available private viewings for a fee, group rate fees may apply.
Canyon of the Eagles Eagle Eye Observatory 📸: Canyon of the Eagles, A Calibre Resort
Although the guest rooms do not have televisions (honoring the distraction-free tradition), with so many things to do during your stay you won't even recognize it. In addition to star viewing at Eagle Eye Observatory, the resort offers live music, culinary presentations, arts & crafts activities, and movies under the stars with s'mores and your favorite beverage.
Canyon of the Eagles Eagle Eye Observatory 📸: Canyon of the Eagles, A Calibre Resort
If nature is your thing, Canyon of the Eagles is committed to providing a place for recreational activities include hiking, biking, jogging, swimming, kayak rentals, scenic guided boat cruises and many more. In addition to those, nearby you will find fishing excursions, extreme sports center, spectacular lift bike park, over 50+ vineyard tours, beautiful caverns, herb farm, lots of shopping, and the list goes on and on.
A Calibre Resort that is one of a kind, what's highlighted in this article is only scratching the surfaces of Canyon of the Eagles. The only way you can take in such a spectacular place like this is with a visit. Worth your while for so many reasons, the kids will have a blast and the adults will relax and disconnect. Take in the beautiful views, great food, plenty of family-friendly activities all while receiving exceptional staff service who will always go over and beyond to meet your needs. If you are seeking a place that make you feel as if you are off the grid, yet in touch in with the nature and its beauty, Canyon of the Eagles, A Calibre Resort is ready to nest you and yours.
Visit www.canyonoftheeagles.com and start planning your trip to this oasis today.