Burning Sands Has a Familiar Face In a Surprising New Role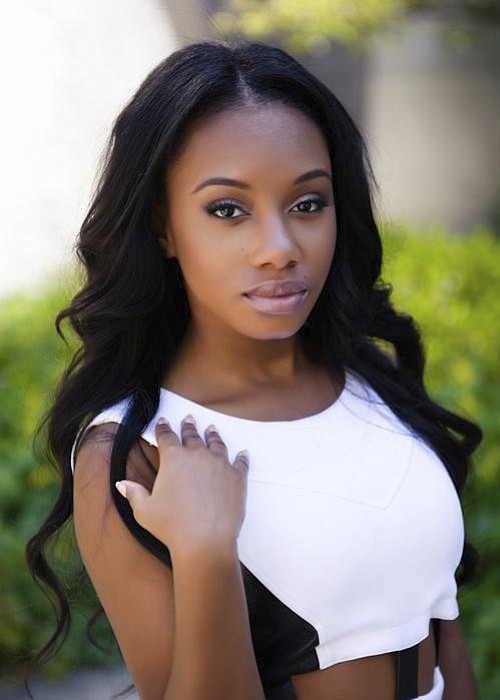 The little sister from Everybody Hates Chris moved on to embody Olympic Medalist Gabby Douglas, and has now blossomed into a young woman starring in her first role as a love interest. That's right, the Sharknado 4 actress Imani Hakim is starring in Common's new Netflix movie Burning Sands. The Cleveland, Ohio native shows us that LeBron James is not the only greatness the city produced. She has been studying acting since the age of seven and landed her first role at age eleven. Now at 23-years-of-age, Imani is ready to show off her skills as an adult. Burning Sands allows her to do that. How so? Well, she went one-on-one with us in a recent interview.
TotallyRandie: Before we talk about Burning Sands, I keep thinking of you as the little sister (Tonya Rock) from Everybody Hates Chris. But who is Imani Hakim now as an adult?
Imani: I'm a professional; I'm a young woman. I'm all about women empowerment, support, and uplifting women. In my professional life and in my personal life, I just love to empower women you know, let young girls and all women know they can be who they want.
TotallyRandie: How was the transition from child actor to adult?
Imani: For me, it wasn't that hard. I have a good support system. I'm also not into too much partying and drinking. That's just not for me. I keep like-minded friends around as well, plus I'm focused. I am just sharpening my craft and building, and I think that helps when transitioning.
TotallyRandie: Ok, let's talk Common's Burning Sands. Common. It's Common!
Imani: [Laughs] I know right! So Common wasn't on the project originally. When I found out he joined I was like OMG that's so amazing that I'm working with Common. I really respect him and I had so much fun working with him.
On studying for her role:
Imani: I'm an actress, always have been and I've never attended college. However, my best friend has and she helped me a lot with the atmosphere and personal stories that relate not only to my role but also to fraternities and sororities. We've heard stories of kids actually dying so it's definitely a conversation that needs to be had. It's serious.
On the first time as a love interest:
Imani: It's pretty weird at first. I giggle at kiss scenes, but he's (Co-Star Trevor Jackson) a professional and so am I so we got used to it after a while.
TotallyRandie: Is Imani dating?
Imani: [laughs] Yes, I am in a relationship and he is in the industry. OMG! I just said his name [Laughs]. It's not hard or anything. It can get frustrating because he works and I work but we make it work.
TotallyRandie: I like that! So, who would you like to work with in the future?
Imani: I would love to work with Jada Pinkett Smith, of course, because she is like my inspiration and I love her. And, of course, Will. I would love to work with Ava Duvernay. She's amazing! I had no idea she was in PR first. I just want to do amazing things with all the amazing women out there. Even my peers Zendaya, she's doing her thing. I just want to work with all the empowering women.
TotallyRandie: You sound like you are extremely multifaceted. Is acting it for Imani?
Imani: Wow, that's a good question. And thank you. No, I used to write a while back. I love writing. I haven't had much time to do that lately but writing is something I love. I want to write, produce, and see some projects birthed. It will happen!
TotallyRandie: I'm sure it will! So what's next for you?
Imani: More shows, auditioning. Right now I'm just focused on building and sharpening my brand and craft.
Follow Imani Hakim online at:
Twitter: https://twitter.com/anakih1
Facebook: https://www.facebook.com/TheOfficialImanihakim
Instagram: http://instagram.com/anakih1
Burning Sands takes you on a raw, voyeuristic journey of fraternity pledging through the eyes of one favored pledge, who is torn between honoring a code of silence and standing up against the intensifying violence of underground hazing. Led by a breakthrough performance by Trevor Jackson, director Gerard McMurray's feature directorial debut brings an emotional honesty to the classic tale of "rites of passage" and the complicated bonds of brotherhood.
Burning Sands also stars Trevor Jackson, Alfre Woodard, Steve Harris, Tosin Cole, DeRon Horton, Trevante Rhodes, Christian Robinson, Rotimi, Octavius Johnson, Malik Bazille, Mitchell Edwards, Serayah, and Nafessa Williams.