Let's Talk with Tayla Parx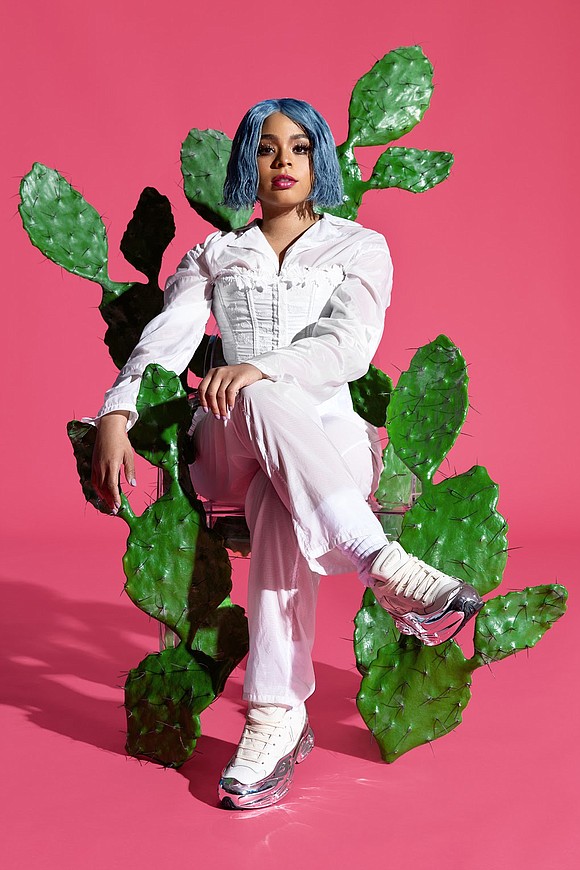 Tayla Parx is a dynamic force in the music industry who has had her share of success on many billboard albums. She's worked with Ariana Grande, Christina Aguilera, Alicia Keys, Kanye West, Fifth Harmony, The Internet, Jennifer Lopez, Janelle Monáe and so many more. In fact, if you are a fan of music, she's likely had her creative juices flow onto your favorite song. A native of Dallas, Texas, she got her start in the entertainment industry working with nonother than Debbie Allen who inspired her to pursue acting.
She received her first big break at the age of 12 when she made her acting debut in the film adaptation of Hairspray as Little Inez, a sassy young girl with big dreams. She has also played in roles for hit TV shows like Everybody Hates Chris, Gilmore Girls, and a reoccurring role on True Jackson VP.
Music has always been Tayla's first love and she decided to take a back seat from acting to focus on her music career. She began writing some of the music industry's top hits and even made history as the first female songwriter to have three simultaneous top 10 songs on the Billboard Hot 100 since 2014. She has been the music industry's go-to girl for writing hits and most recently nominated for a Grammy award for her writing credit on her friend Ariana Grande's album, Thank U, Next which is up for Album of the Year.
Tayla Parx has already proved her music abilities by writing hit songs for artists and now she is creating a lane for herself with the debut of her highly anticipated new album We Need To Talk and headlining her own tour. I had a chance to sit and chat with Tayla about this project and the passion inspired by her art. Here's what she had to say.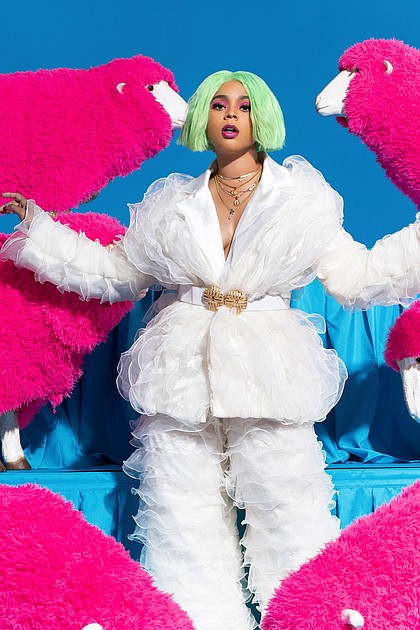 Kayla Simmons: You got your start in the industry working with Debbie Allen who's a huge icon in the entertainment industry. What was that experience like and how did that lead you towards music?
Tayla Parx: Working with Debbie was incredible. I was already singing when I met her so she took me from just singing to teaching me how to act and dance so that I could be a triple threat. She met me when I was 9 years old and eventually convinced my parents to allow me to travel to L.A where her dance academy was located. Eventually, she convinced my parents to pack up their entire life and move to L.A. for me in hopes that it would work out. I was really lucky to have so much support from my family, my friends, and even strangers who inspired me to keep going.

Kayla Simmons: That support is very important, especially doing all of the things you're doing. One of the big roles you've had was starring in the film adaptation of Hairspray. How was it working alongside veterans in the industry like Queen Latifah and John Travolta at such a young age?
Tayla Parx: I definitely didn't realize how crazy that was at the time. I was just a little kid bopping around on set and was so excited that I would be able to sing and dance in the movie. Obviously, I knew who Queen Latifah, Zac Efron, and Amanda Bynes were, but I did not realize at the time how massive it would be. This role was something that I worked really hard for. I auditioned so many times and I didn't think that I was going to get it. I thought they would give the part to someone who was a bigger named actress. I was blessed with that opportunity and we kept it going from there. I just wanted to keep working hard and at that point, I wanted to be like, "Look, Mom and Dad! You didn't do all of this for no reason, we're going to make it!"
Kayla Simmons: Hard work definitely pays off right and it has certainly paid off for you. Congratulations on your Grammy nomination. You've had a hand in writing several hits for many artists. Is there any artist that you would like to collaborate with that you have not collaborated with yet, if so who?
Tayla Parx: Adele and Ed Sheeran – I've been going through this UK phase. I'm really inspired by the way their music can touch your heart and Adele's tone is so beautiful. On top of that, what makes me want to work with artists outside of their talent is them being cool and down to earth; and Adele is one of the people that I feel we would have a lot of fun together creating.
Kayla Simmons: Absolutely! I could feel that as well. I have had your "We Need To Talk" album on repeat and let me tell you, it's such a great album with a unique vibe. What inspired your "We Need To Talk" album?
Tayla Parx: All of my albums are little entries of my diary. I wait and I allow my life to just happen, and that's when the album begins to naturally form. This time, it was really me diving into all of my masculine and feminine qualities, while also expressing the experience of falling in love for the first time and getting my heartbroken for the first time. My music reflects what I went through and how I feel about it. Now people can hear my story and what I've experienced with love. I started doing that back with the TaylaMade mixtape in 2017. My albums have interludes that lead to the next song and allow the story to move along. I'm telling you a little bit more about myself through music.
Kayla Simmons: Let's talk about the "We Need To Talk" tour. What is something your fans can expect from your performance here in Houston?
Tayla Parx: I'm really excited to be coming back to the south! I'm excited to take the same things that you can imagine I would do with all of the neon colors and really bring my colorful world onto that stage. Being on tour with other artists; like when I was on tour with Lizzo or Anderson Paak as an opening act; you can't really make your stage up the way that you would like to make it. So, I'm excited to be headlining my first tour and really showing my fans this is how I do it!

Kayla Simmons: I know so many people are excited for that! Now, you are a fellow Texas girl – a Dallas native but do you feel a connection to Houston and what are some of your favorite spots in the city?
Tayla Parx: (laughs) I literally never know where the heck I am when I'm in Houston. I just ride around with my cousins and tell them to put me on to some good food. Good food is one thing I know I can always get in Texas.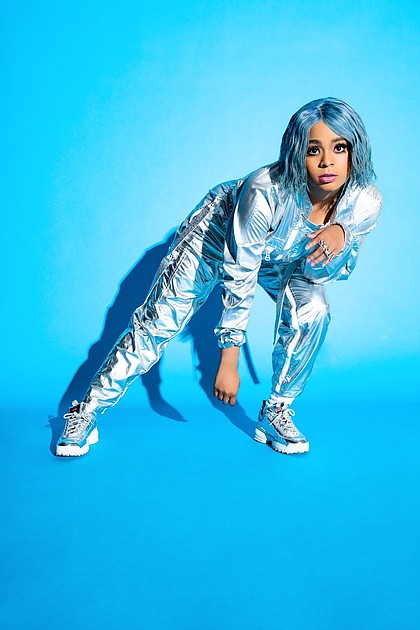 Kayla Simmons: Most definitely! After this tour, what are your future plans? Could we possibly see you on the big screen again?
Tayla Parx: After this tour, I'm super excited to expand and continue to evolve as an artist, songwriter, and overall creative. I kind of miss acting right now so you can definitely expect to see me getting back into that. Usually, when people ask if I want to act again, I'll be like "No No No!" but now I think I'm ready to do it again. One of the reasons I did not want to act for a minute was that I felt it distracting me from music, which has always been my first love. Now I'm at the point where I've been able to give my all plus more to music, and I miss acting. So, you will definitely see me hopping back into acting.
Kayla Simmons: What is something your fans don't know about you that you wish they did?
Tayla Parx: One of the things my fans probably don't know about me is that I can cook. I love to cook, I'm from Texas so you know we love food (Laughs). I kind of want to do one of those pop-up food trucks and have my fans come through to see me in the back cooking with the chef hat on and we all just have a good time.
Kayla Simmons: If you were not in the entertainment industry, what do you feel you would be doing?
Tayla Parx: I never even imagined doing something else. Possibly if I wasn't an artist, I would be an entertainment lawyer. I would like to get a deeper perspective from the artists themselves and become more involved in their business decisions and more knowledgeable in what the heck is going on with their contracts.
Kayla Simmons: I want to talk about your merchandise. You have the Trailer Parx merchandise, where can we purchase it, and will it be available to purchase during the tour?
Tayla Parx: Yes, we're actually going to have some exclusive merchandise that you can only get at the show as well as some items that will be going up online. You can go to taylaparx.com or trailerparx.com to get the merch as well. I'm actually going to be diving deeper into the Trailer Parx line in 2020 and dropping more items. I have so much fun with it and people love rocking Trailer Parx. I always see my different artist friends and my fans taking pictures of themselves in the merchandise and I'm like, wow I'm really living in my own colorful world.
Kayla Simmons: Do you have anything else you would like to share with us that we have not talked about?
Tayla Parx: I'm just super excited for everyone to come out from my home state of Texas to show me some love and I'm going to perform my ass off for them. We're going to have a lot of fun and keep this going for the rest of my life!
Tayla Parx We Need To Talk tour will be making its way to Houston on February 1 at The Bronze Peacock at the House of Blues Houston. You can purchase your tickets at livenation.com or go to taylaparx.com for more information.