Alex López Negrete & Gaby Natale named co-chairs of Hispanicize Texas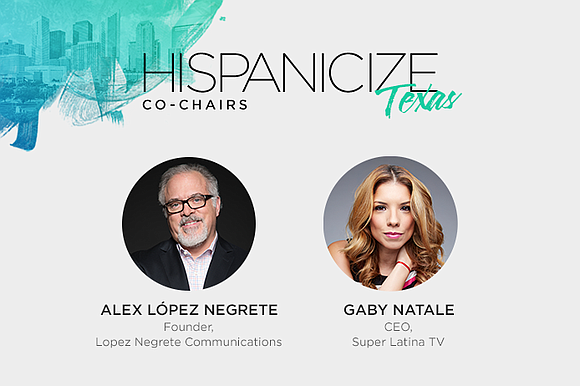 Nationally renown Hispanic marketing industry leader Alex López Negrete, CEO and founder of Lopez Negrete Communications, and multi EMMY Award-winning journalist and media entrepreneur Gaby Natale, CEO of Super Latina TV, today were named co-chairs of the first annual Hispanicize Texas event that will take place in Houston on Saturday, July 29th.
"Alex and Gaby are two proud Latino leaders with the extraordinary reputations and accomplishments, and we are honored to have them lead our illustrious Hispanicize Texas advisory board," said Angela Sustaita-Ruiz, co-founder and CMO of the Hispanicize Media Group that owns Hispanicize Texas.
Slated to take place at Silver Street Studios in Houston, Hispanicize Texas will empower and engage digital creators in the Lone Star State, one of the largest markets in the nation for multicultural digital influencers. In addition to the dedicated creators' track, Hispanicize Texas will also feature a full slate of sessions devoted to entrepreneurs and cultural themes that touch the fields of marketing, journalism, and leadership.
The Lone Star edition of Hispanicize will be co-curated by Juan Alanis and Anjelica Cazares of Juan of Words in partnership with DiMe Media, Texas Latino Bloggers, FAB Latinos, and, Círculo de Mujeres DFW.
In addition to Lopez Negrete and Natale, the 2017 Hispanicize Texas advisory board is comprised of:
— Pamela Andino, Founder, Kaleidoscope Houston
— Manuel Delgado, CEO, Agua Marketing
— Kety Esquivel, Senior Vice President, Edelman
— Rory Lassanske, Content Creator, Mama Contemporanea
— Rikki Rincon, Founder/Creative Director, Creative Juice Online
— Ashley Segura, Content Creator and Founder, FAB Latinos
— Kami Watson Huyse, Content Creator, Houston Social Media Breakfast
— Jillian Goltzman, Content Creator, Houston Bloggers Union
— Tony Canales, President/General Manager, Telemundo Houston (KTMD-47)
— Audrey Ponzio, Founding Partner, APC Collective
— Sonia Diaz, Director of Public Relations and Digital Strategies, Balsera Communications
— Sandra Fernandez, Founding Partner, Big Oak Tree Media
— Roccibel Volpicella, YouTuber at Roccibella
— Antonio Arellano, Multimedia Journalist and Social Media Influencer, ABC13
Brands and other organizations who wish to collaborate with Hispanicize will have a large platform to work with as the Silver Street Studios will be transformed into a creative playground featuring a jam-packed agenda of in-depth workshops on photography, shooting and editing videos, branding, social media, and much more.
Hispanicize Texas is being presented by Prudential Financial. Media partners to date include Telemundo Network, Latina, the Hispanic PR Blog, LatinaMoms.com and Popful.