AboutThatCar.com: 2018 Volvo V90, S90, XC60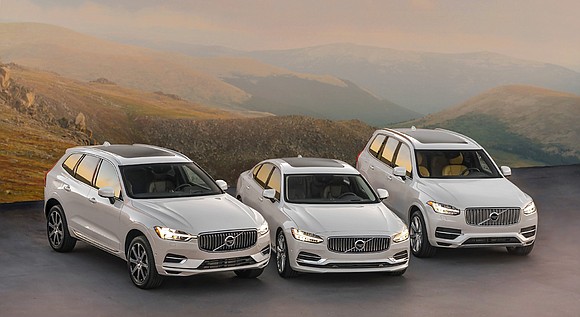 The V90 is a low volume car. Volvo only sold around 1,000 of them last year. Still, the full size station wagon is part of the company's heritage. Volvo has sold more than 6 million wagons worldwide since the first one it offered, the Duett, went on sale in 1953.
Volvo thinks this is a smarter, more price conscious way to market a low volume car. However, it will take three months to get the regular 2018 V90. But the V90 Cross Country, with its higher clearance and a bit more rugged attributes, can be purchased at Volvo dealerships.
The T5 Volvo V90 is powered by a 250 horsepower turbocharged engine that makes 258 pound-feet of torque. But they did not bring this engine for the program. And the V90 also comes in a sportier R-Design trim.
Our 2018 V90 Inscription had a 2.0-liter four-cylinder supercharged and turbocharged engine that made 316 horsepower and 295 pound-feet of torque. That may not sound like much oomph but at low or high speeds this engine will propel a Volvo rapidly. There were a couple of places that my driving partner got on the pedal and this engine responded by sending the V90 from about 60 mph to almost 95 mph in a few seconds.
I thought the seats, a Volvo strong suit, were awfully comfortable. This V90 was quiet, handling was great and the ride was smooth. And now that I think about it, sight lines were clear. Not once did I feel constricted because my view was obstructed by anything inside the car.
The base price was $57,950. But a $1,900 convenience package that included a surround view camera and a list of options like an air suspension, a premium audio system and 20-inch Inscription alloy wheels, and a heads up display pushed the price to $69,340 as tested.
A panoramic roof was standard as was a smart key, heated front seats, heated steering wheel, LED headlights, blind spot alert, lane keep assist, and emergency braking for pedestrians and cyclists.
We got into a 2018 S90 to continue the test drive to the lunch stop. The sedan has undergone a couple of significant changes for this model year. First it is 4.5 inches longer than last year's model.
The short-wheel-based version of the S90 will not be available in this country any longer. It will be available in Europe and of course in Sweden. Some think that Volvo is making the move in preparation for the launch of the S60 sedan next year. Time will tell. But that wasn't the second piece of news for this model.
The S90 now comes with the 400 horsepower plug-in electric hybrid system and that is what we test drove to lunch. All of the extra inches went into more leg room in the rear, the rear seats massaged passengers and the car had power side shades and of course a power rear shade.
Its panoramic roof was standard. What Volvo called a Twin Engine Plug-in Electric Hybrid 400 horsepower propulsion system, or T8, joins the 316 horsepower T6 super- and-turbo charged engine as well as the 250 horsepower turbocharged T5 engine offered on the S90.