AKA Alpha Kappa Omega Chapter Donates Over $12,000 for Mammograms for Underserved Communities
One in every ten million women worldwide will be affected by breast cancer. It is one of the most common cancers with the highest number of deaths. Although white women account for the most new cases per year, their rate of death is lower than that of African American and Hispanic women. With more research breast cancer death rates have decreased overall but still remain higher for African American and Hispanic women. The ladies of the Alpha Kappa Alpha Sorority, Inc.® Alpha Kappa Omega Chapter know with even more research and awareness that the death rates of women that reflect their image will begin to decline.
Alpha Kappa Alpha Sorority, Inc.® took on a goal to reach 100,000 women over four years in which Dr. Glenda Baskin Glover was the organization's international president. Their goal has a trickle down approach with uninsured and unemployed African American being the beneficiaries of their service. Knowing that early detection saves lives, the ladies are stressing the need for African-American women to get regular mammograms.

Houstonians will remember the big pink mobile mammography unit rolling in to town stopping on the campus of Texas Southern University as a launch to their month-long observance of breast cancer awareness month. Since that time to now, the ladies have become fiercer in their fight to end breast cancer with their words and actions.
"The Alpha Kappa Omega chapter is committed to the health and welfare of women particularly women of color who have the highest mortality rate for breast cancer," said Alpha Kappa Omega chapter president Cherise Story.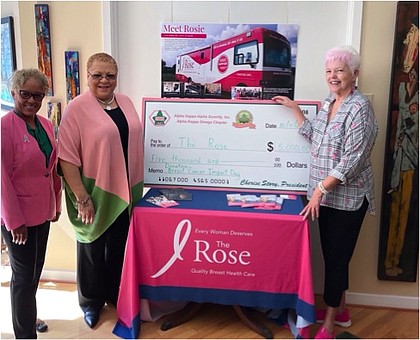 The ladies of Alpha Kappa Omega Chapter kicked off their observance this year by again participating in the Susan G. Komen Race for the Cure breast cancer walk. The chapter raised close to $3,000 to go towards Susan G. Komen's new initiative "Stand for H.E.R.," a health equity revolution aimed at decrease the mortality rate of Black women while also closing the gap mortality rate between black and white people. Following that activity, the chapter's women's healthcare and wellness committee hosted a "Health Matters" webinar with health professionals leading an engaging discussion. Panelists Kathryn Wallace, MS, RD; Rodney Hunter, Pharm.D., BCOP; and Tiffany Avery, MD, MPH discussed multiple aspects of the disease, nutritional benefits, and prevention. Coupled with that, the ladies are using their social media platforms to educate the public on prevention early detection, and research. Topping all of these activities was one of the largest donations the chapter has given in their history to help women in underserved communities. Members of Alpha Kappa Omega donated $5,000 to the Angels Surviving Cancer and $5,000 to The Rose.
Cheryl Duncan, chapter's health committee chairman, said Alpha Kappa Omega selected these two nonprofits to donate to because of their purpose of providing education and mammograms to the indigent populations in various communities. In
"These organizations will assist with the people who can't pay or not pay without insurance. They will provide mammograms to the indigent populations in your community. Angels Surviving Cancer will assist with people getting mammogram, support groups, and education. The Rose has a mobile unit to provide mammograms and assist with people who can't afford to get mammograms.
For more information about the Alpha Kappa Omega Chapter of Alpha Kappa Alpha Sorority, Inc.®, visit AlphaKappaOmega.com.
Follow their social media handles Facebook.com/AKA.AlphaKappaOmega and Instagram and Twitter @akomega1928